Chief of Staff
United States European Command
CJTF-HOA Chief of Staff Biography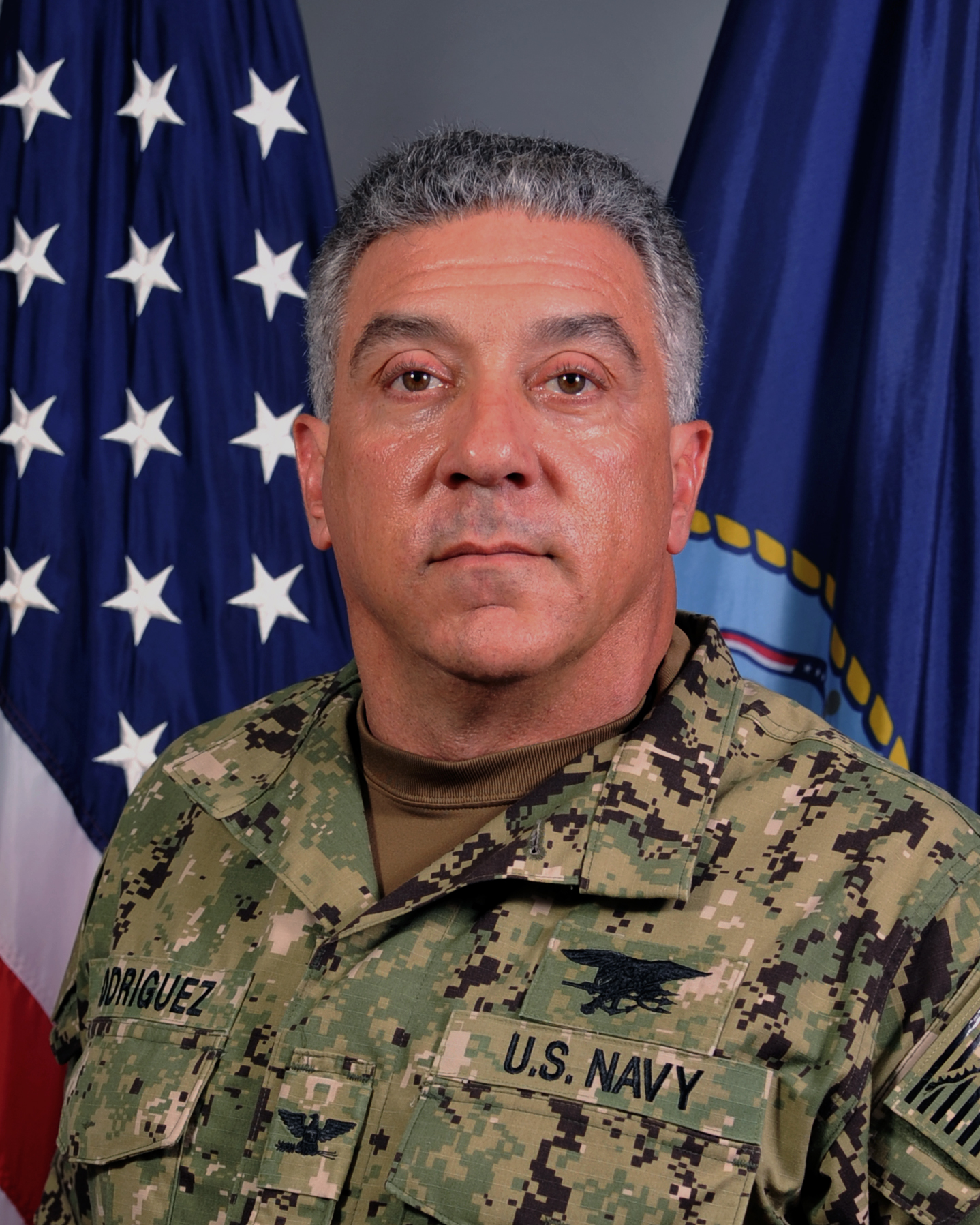 Captain Richard Rodriguez is the Chief of Staff, Combined Joint Task Force – Horn of Africa at Camp Lemonier, Djibouti. In this position, he supports the CJTF-HOA Commander to counter violent extremist organizations in East Africa, foster regional security cooperation, strengthen partner nation security capability, and build and maintain U.S. strategic access to the region. Captain Rodriguez is also responsible for overseeing the CJTF Headquarters Staff and J-Code Directors.
Prior to assuming his current position, Captain Rodriguez served on the Staff of the Office of the Secretary of Defense, Special Operations & Low-intensity Conflict – Counter Terrorism Directorate.
Captain Rodriguez is a native of California and a graduate of the U.S. Naval Academy at Annapolis, MD. He began his military career as a graduate assistant football coach for the Naval Academy prior to reporting to Basic Underwater Demolition School BUD/S.
A career Naval Special Warfare Officer (SEAL), upon graduating from BUD/S with Class 161, he was assigned to Seal Team ONE. He completed deployments as a platoon assistant officer (Desert Shield/Storm) and Platoon Officer in Charge as well as a tour as the SEAL Team ONE Operations Officer. After an operations tour at Naval Special Warfare Group ONE, he mobilized as the N35 to Commander Naval Forces Europe in London, United Kingdom. His O-5 Commanding Officer tours include NR Naval Special Warfare Unit 10 (Rota, Spain) and NR Naval Special Warfare Special Boat Team 20 (Norfolk, Va.). In 2009, he deployed to Iraq with Combined Joint Special Operations Task Force – Arabian Peninsula, Task Force West.
His Major Command tours include NR Naval Special Warfare HQ CMD, Naval Special Warfare GRP THREE – UNDERSEA and US Delegation to the NATO Military Committee. His personal decorations include the Defense Superior Service Medal, Meritorious Service Medal, Joint and Navy Commendation Medal with Combat "Valor" distinguishing device, Combat Action Ribbon, and numerous other personal awards and decorations.
Captain Rodriguez holds a Master of Business Administration from Xavier University, Certifications from Columbia Business School and is a graduate of the Joint Forces Staff College. In his civilian career, he is a senior executive in the construction and development field and has led some of the world's largest and most iconic projects.
(Current as of November 2016)
Tags