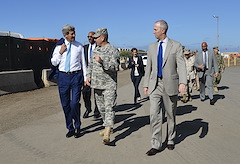 U.S. Secretary of State John Kerry recently visited Combined Joint Task Force-Horn of Africa headquarters at Camp Lemonnier, Djibouti, during a series of stops with several partner nations throughout Africa.
His arrival in country marks the first time a sitting U.S. Secretary of State has visited Djibouti, and before leaving the country to attend further talks with gulf state leaders in France, Secretary Kerry spoke to Combined Joint Task Force-Horn of Africa service members at Camp Lemonnier.
"I've seen what you have been called upon to do," said Secretary Kerry. "You guys are far and away more advanced, more capable, more trained and more equipped. We are proud that we have the very best military in the world, and I thank every single one of you for that. The nation is so grateful for your service."
During his speech, Secretary Kerry spoke about the challenges facing the Horn of Africa and Combined Joint Task Force-Horn of Africa's role in stabilizing the region through continued cooperation and the development of African partner nations.
"This is the only base the U.S. has in Africa," said Secretary Kerry. "Africa is gigantic and has enormous challenges. I think Africa will write much of the history of this century. Helping these countries to be able to provide the governance that their nation needs, helping with the fundamentals of education and healthcare. Building opportunities for their young populations is important. Everyone here knows that if these kids don't have a chance to get a job or an education, they can get trapped by radical religious extremist and then we will all be in trouble."
Secretary Kerry also highlighted Combined Joint Task Force-Horn of Africa's importance both politically and militarily for regional security.
"Having a presence here, which empowers us to do our diplomacy, is critical," said Secretary Kerry. "If we don't have security for our diplomats they can't build the relationships with people that can help develop regional governments that are stable and that can help do things for its people. Instability is the enemy of everyone. Having this base is critical to Africa."
Fielding questions from the audience, he explained that the increased political investment in Somalia is to develop a long term solution to drive the terrorist group Al-Shabaab from the country and to ultimately end the humanitarian crisis leading to increased numbers of Somalis fleeing the country.
According to Secretary Kerry, at the heart of all these goals and objectives is the men and women of Combined Joint Task Force-Horn of Africa.
"Your mission here is mightily connected to everything we are trying to do as a country and everything we must do in the world today," said Secretary Kerry. "We just have to remain steady and do what Americans do best, which is get the job done, and stay true to our values, and understand what the mission is, and stay true to each other. I come here to thank you on behalf of the president, the secretary of defense and everyone in the administration, but most importantly the American people."