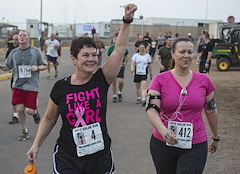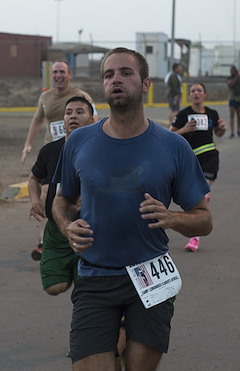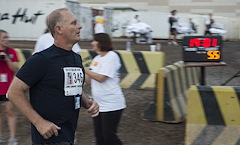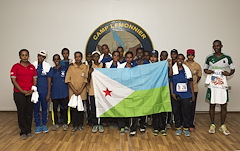 More than 800 runners and walkers participated in a Valor Run dedicated to fallen service women that was hosted by Combined Joint Task Force-Horn of Africa and Camp Lemonnier October 21, 2015.
Valor Run honors the more than 160 female service members who have died in the line of duty during the wars in Iraq and Afghanistan, and the families they left behind.
More than 150 participants were coalition forces, including Japan, France, Germany, Italy, and Djibouti Armed Forces (FAD) officers, who wanted to show their support to the United States and its fallen heroes.
"It is important that we take part and provide sentiment for these women who died during war," said 2nd Lt. Mohamed Meraneh, FAD deputy director of international relations. "However, we are here to support every nation's soldiers."
As people gathered near the starting line, they participated in a moment of silence and reflection in remembrance of the fallen American service members.
"It's important to take time to remember and honor the sacrifices of those who have gone before us," said U.S. Marine Corps Maj. Bevin Keen, event coordinator. "Women in all branches have served alongside men and have made the ultimate sacrifice."
As the group moved through the course, many people experienced a feeling of unity and family, according to 2nd Lt. Loula Ali Moussa, FAD director of international relation's first assistant.
"We have formed bonds between us and many of the people here," said Moussa. "There is a big relationship between the United States and Djibouti. We are very happy training and doing activities with each other."
The event was organized to raise awareness for more than just women serving in the U.S. Armed Forces.
"Valor Run honors not only the fallen women, but all women who serve, by donating profits to the Women's Memorial in Washington D.C.," said U.S. Navy Capt. Kimberly Walz, CJTF-HOA Security Force Assistance Division deputy-director.
This Valor Run comes at a pivotal time for women in the military, as many combat positions will become available to both genders.
"War is hard for everyone," Meraneh said. "We all face the same danger. We risk our lives to defend our countries. No one can promise anyone absolute safety."
"Women, like men, are answering the call to serve," Walz said. "We are members of the team, crew and units. This run is a reminder that no matter who we are, where we are or what our job in the military currently is, that we all face the same risk every day."