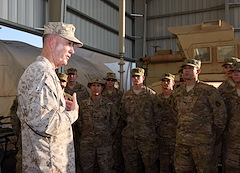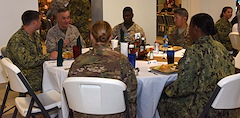 Marine Corps Gen. Joseph Dunford, Chairman of the Joint Chiefs of Staff, spoke to troops while on the second stop of his multi-day, three-continent trip with the 2015 USO Entertainment Troupe.
Making his first trip to Africa after becoming chairman two months ago, Dunford expressed his three primary goals in his new position: restoring joint readiness, improving joint warfighting, and developing leaders of tomorrow.
"We must ensure that our forces have the training, equipment and leadership they need to be ready at all times," said Dunford. "We must have the adaptation and innovation necessary to fight wars in the future as well as the ones we are currently involved with, and to make sure [leaders] are ready for challenges that are far more complex than ones I confronted as a young Marine."
Dunford also spoke about the importance of forward presence by deployed service members, stating the objective is to keep sufficient pressure on the enemy and disrupt their capabilities.
"The Islamic State has grown since 2014," said Dunford. "We are making sure we have the right capabilities and capacities inside the joint force to keep pressure on them to make sure we're playing an away game and not a home game."
While addressing the Soldiers, Sailors, Airmen and Marines assigned to Combined Joint Task Force–Horn of Africa and Camp Lemonnier, Dunford lauded them for efforts in increasing African partnership and their capabilities.
"One thing we work on is building partner capacity so they can deal with a threat within their own borders," said Dunford. "With a small number of Americans, we can enable a large number of indigenous forces to take the fight to the enemy."