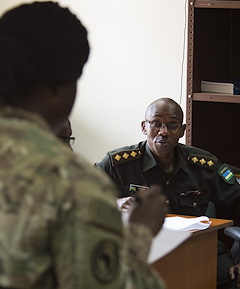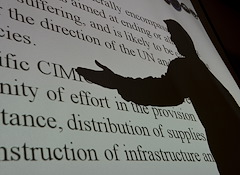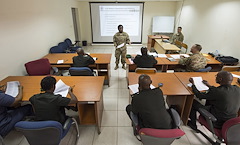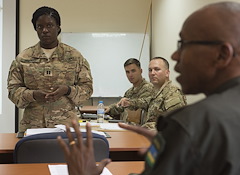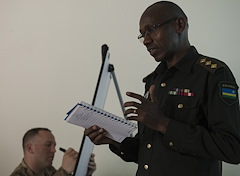 Representatives from the Combined Joint Task Force-Horn of Africa Army civil affairs battalion and information operations office visited civil-military cooperation (CIMIC) personnel from the Rwanda Defence Force, Feb. 1-4, to share best practices and gather information for future operations between the two forces.
During the engagement, participants discussed the relationship between CIMIC and information operations, pre-deployment training, and skills and tasks needed to be proficient CIMIC officers.
Rwandan CIMIC officers have many of the same roles and responsibilities as U.S. Army civil affairs. Army civil affairs specialists are responsible for researching civil environments, acting as liaisons between civil components of an operational environment, and conducting security force assistance, while enabling the civil-military operations of the supported commander.
Information operations is responsible for integrating, coordinating and synchronizing information-related capabilities to enable, inform and influence operations.
During the engagement, participants from CJTF-HOA and the RDF discussed each function's operations and organizational structures to determine similarities and differences that will help with creating a future training plan for CIMIC personnel.
"The civil affairs and CIMIC need to share information and best practices because we always need to improve. To improve we need to learn through our differences," said Lt. Col. Jeanne Chantal Ujeneza, RDF Army CIMIC and gender deputy director. "In the future we will train CIMIC personnel differently, so this helped me to better understand which skills we need to train our officers."
"Our approach for CA and PIO are similar, which is a good thing," said U.S. Army Capt. Morgan Shepard, CJTF-HOA information operations planner. "Even though we are like-minded, our resources and organizational structure are different. We want to ensure we are helping them to maximize their resources and send competent people into the field."
Rwanda is one of the largest contributors of forces to peacekeeping operations in East Africa. The Ministry of Defence's impact continues to expand as the Rwanda Peace Academy in Musanze takes on a larger role as an international training, research and education center.
This interaction with Rwandan CIMIC forces was the first of four phases intended to strengthen the relationship between CJTF-HOA and RDF and support regional training efforts for peacekeeping operations.
"Phase one was important because it allowed CJTF-HOA and RDF personnel the opportunity to identify the challenges for preparing proficient CIMIC personnel in support of peacekeeping operations," said U.S. Army Sgt. Nathaniel Mitcavish, CJTF-HOA civil affairs specialist.
During phase two, personnel from the RDF CIMIC will participate in a conference at Camp Lemonnier, Djibouti, which will address the protection of vulnerable populations and the application of international humanitarian law.
Phases three and four will utilize the established relationships with the RDF, Rwanda Peace Academy, and the existing relationship with the British Peace Support Team-East Africa (BPST-EA) to further support sustainable development of regional partner nations who contribute peacekeepers.
According to Mitcavish, completing the four phases will increase interoperability and synergy among CJTF-HOA, RDF, BPST-EA and Rwanda Peace Academy by supporting regional training efforts for peacekeeping operations and enabling the impact of those partners to grow.
Rwandan and CJTF-HOA representatives agreed on the importance of an ongoing mutually beneficial partnership to aid in the progression of CIMIC operations.
"There is a great deal of enthusiasm from our leadership that started this process, so we need that enthusiasm to continue to support the work we would like to do," Shepard said. "I think there will be great value if this relationship is maintained and if we are able to move in a direction that is helpful to the RDF."
"It doesn't stop here," said Capt. Edouard Turatsinze, Rwanda MoD public relations and communications officer. "The most important thing is that we have had this meeting. This is the starting point so now we will continue to move forward together."