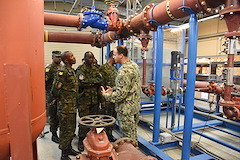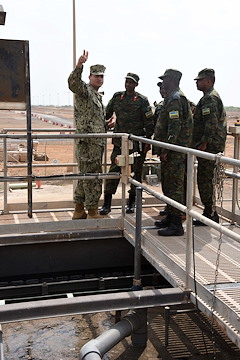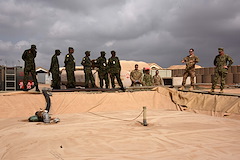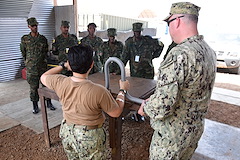 After classroom discussion, whiteboard drawings and digital renderings, the next step to cementing a theory is seeing plans enacted in reality.
This is the direction engineers from Combined Joint Task Force-Horn of Africa and the Rwanda Defence Force have taken over the past three months to share best practices on expeditionary camp building.
"After theory we have a gap of how things are put into context," said RDF Air Force Maj. Jean Paul Munana, RDF Engineering Battalion squadron commander. "We needed to see how that theory is converted into reality."
Six RDF engineers visited Camp Lemonnier and Chebelley Airfield, Djibouti, Feb. 23-26, 2016, to see how U.S. military members work and live in different types of expeditionary camps.
RDF members toured critical utilities that support Camp Lemonnier's more than 4,000 residents. Some of the facilities shown were the reverse osmosis water purification unit, power production plant, waste water treatment facility, trash incinerator, armory, ammo supply point, and construction supply and equipment yards. They also stayed in living quarters and ate at the dining facilities on Camp Lemonnier during their stay.
"We tried to show them things that are common to most base camps regardless of the size," said U.S. Navy Lt. Steven Hunt, CJTF-HOA engineering future operations officer. "It's hard to get the perspective of something just by talking about it or from a picture or video."
The tours of both Camp Lemonnier and Chebelley Airfield provided the RDF a chance to see the differences in levels of expeditionary camp permanence.
"We talked about some things at the RDF Engineering Battalion in Kigali, but seeing things, the size of them and how they are laid out, is more beneficial," said Hunt. "You get a much more in-depth look by walking through a facility, and you can ask questions of the person in charge."
After seeing Camp Lemonnier, an established, enduring encampment, the RDF visited Chebelley Airfield to see its fuel storage bladders, 12-man tents, power distribution, and security features for comparison.
"It is good for us to see Chebelley because it was developed exactly from U.S. expeditionary doctrine," said Munana. "Unlike Lemonnier that was designed from existing facilities."
By seeing both expeditionary sites, RDF engineers learned more about what facilities are necessary for operations in austere conditions like those in Djibouti. The engagement also presents more opportunities to build lasting ties that will reinforce partnerships throughout the Horn of Africa.
"The better relationship we have with partners, the better we understand their constraints and abilities," said Hunt. "It also allows us to be able to know how to provide assistance to help their missions succeed."