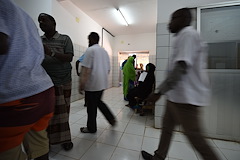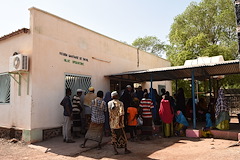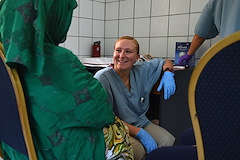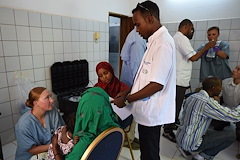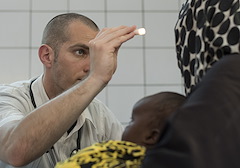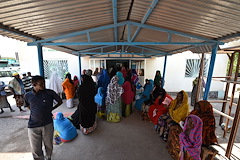 U.S. Army Soldiers from the 403rd Civil Affairs Battalion, assigned to the Combined Joint Task Force-Horn of Africa, worked with Djibouti Ministry of Health and Cuban medical personnel to provide medical care and education to the people of Dikhil, Djibouti, May 11-12, 2016.
The medical civic action program, brought together American, Djiboutian and Cuban doctors. The team worked together to compare diagnoses for illnesses seen during the two-day program and also provided medications to patients.
The Cuban physicians are contracted providers, hired by the government of Djibouti to provide medical support where needed. The Djibouti Ministry of Health reached out to them for their participation in the MEDCAP.
"Our goal is to see as many people as we possibly can, health-wise. Sometimes it takes the form of medication, fluids or sometimes just reassurance," said Maj. Andrew Mosier, 403rd Civil Affairs Battalion Medical Cell chief medical officer. "I think reassurance was the most difficult because if I had a physician that didn't speak my language and they are telling me I am doing the right thing and to wait it out 7-10 days, that might be frustrating but our interpreters were helpful and conveyed the message really well."
The medical teams worked with translators to cross the cultural and language barriers between two medical personnel and patients. Sometimes they needed to translate through more than one language, such as French, Spanish and Afar, to be able to communicate. People from the village also offered their help with translation.
The majority of cases medical personnel saw were viral gastroenteritis, or stomach flu, caused by poor hand and mouth hygiene, Mosier said. They saw additional illnesses as they treated women, children and men of all ages.
After spending 10 hours over two days, the team saw approximately 140 people during the trip. The top three common illnesses they encountered were gastroenteritis, upper respiratory and ear infections. Out of the 140 people, 72.6% were children averaging around six years old.
This is not the first time the CA BN has worked with the Djibouti Ministry of Health personnel. They provide other medical assistance programs as well.
"Having the American doctors here helps me a lot and I am happy for the support," said Dr. Moustapha Amain Mouhammad, Djiboutian Chief of Medicine. "This is the third time I have worked with the Civil Affairs and today we are doing a MEDCAP."
Moustapha hopes MEDCAP will continue their efforts in Dikhil and in surrounding areas, as they are people who do not readily have access to proper medications and care.
"We don't normally see that level of illness in the United States, so I felt very useful and was humbled to be able to use our skills to help the people of Dikhil and work with the Djiboutian and Cuban medical personnel," said Mosier.