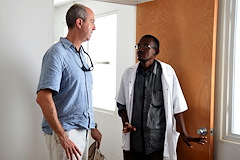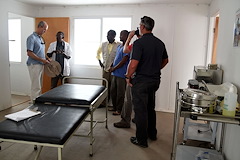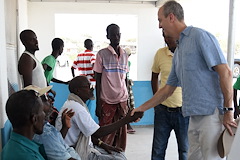 KALAF, Djibouti – Ambassador Tom Kelly, U.S. Ambassador to the Republic of Djibouti, and members of the Combined Joint Task Force-Horn of Africa J44 Force Engineers visited medical personnel and village elders at the Kalaf Medical Clinic, May 17, 2016, in Kalaf, Djibouti.
Kelly and the J44 Force Engineers met with the medical staff and village elders to make sure the clinic is still meeting the needs of the Kalaf community, more than a year after it opened.
"We have a long standing tradition of providing equipment here and I'm very happy to visit the clinic and see that it's all being used intensively and that it gives the people of Kalaf a better level of medical care," said Kelly.
Funded by the Department of Defense Humanitarian Civic Assistance Fund, the Kalaf Medical Clinic construction completed by U.S. Naval Mobile Construction Battalions 133 and 74 in December 2014 as part of Operation JUST DART. The clinic was then turned over to the Ministry of Health in December 2014.
"Before this clinic, people were traveling 12-25 km for medical care," said Moussa Nouro Moussa, Kalaf Medical Clinic head nurse. "We are very happy and we thank God and we thank the U.S. military who executed and made this happen for the community."
The clinic typically sees around 400-500 people a month or 10-15 per day, he said.
"We are in the only medical clinic in town and the only medical clinic for the surrounding area so for the people of Tadjoura and Kalaf, it is really kind of a lifeline," Kelly said. "All of the town's children are born here and all of the primary medical care is delivered to the population as well."
Inside the medical center there is a maternity ward with three rooms, consultation center with an office, waiting room, storage and one bathroom; living quarters with storage, two water cisterns and a fence around the perimeter. The clinic also has solar panels to provide power.
"The Kalaf Medical Clinic is being used as somewhat of a model for future clinics, just with different methods and better materials," said U.S. Navy Lt. Trang Tieu, CJTF-HOA J44 Country Engineer for Djibouti and Somalia. "We are now moving towards contracting it out to Djiboutian contractors to build so collectively they can work together and build their own clinics in the future."
Completing his three-day trip visiting villages in the northern region of Djibouti, Kelly and the J44 Force Engineering team completed their wellness check on the Kalaf Medical Clinic, along with identifying new and reoccurring maintenance needs.
"I think it's very important to come out here as often as we can so that we can see how things are going and we can make suggestions for improvement," said Kelly.