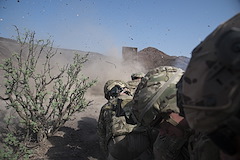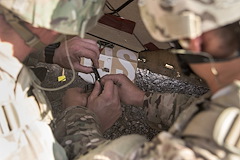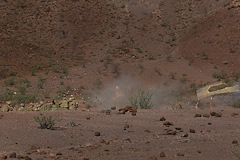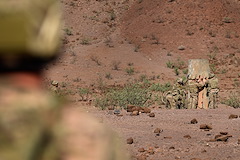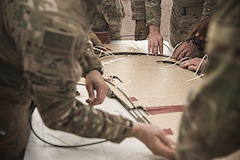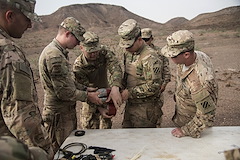 U.S. Army Soldiers from Bravo Company, 3rd Battalion, 15th Infantry Regiment, completed demolition training and learned how to use explosives to breach through buildings, Aug. 30, 2016 at Arta, Djibouti.
From Fort Stewart Georgia, Bravo Co., 3/15 Inf. Rgt. (also known as Bandit Company) serves as the East Africa Response Force assigned to Combined Joint Task Force-Horn of Africa. In a crisis event, the EARF provides rapid response and security to protect embassies and foreign assets in CJTF-HOA's area of responsibility.
"Today we are here to learn (about) implementing urban breaching charges and dynamic charges to enter buildings and clear out buildings in an attempt to surprise the enemy," said Staff Sgt. Johnathan Hall, Bravo Co., 3/15 Inf. Rgt. sapper engineer squad leader.
Within Bandit Company, there are several units that don't normally get to train together. Members from the unit's military information support operations, infantry, and sapper combat engineers worked together to create and set off their own explosive charges on wood boards and old doors.
"We got to test some (explosives) and work with some of our sappers; being in infantry we don't get to work with all the different units that get attached to us all the time," said U.S. Army Spc. Benjamin Cameron, Bravo Co., 3/15 Inf. Rgt. training room noncommissioned officer. "So coming out and actually getting experience to train with them, and creating and placing door charges definitely gave us good hands-on experience of knowing how to do our job better if we need to breach rooms, and utilize our training later on in our careers."
While the unit has been at CJTF-HOA they have been able to hold several trainings in an environment that they don't have back at home. They trained on several demolition ranges, combat water survival training, weapons familiarizations, marksman qualification and the French Marines Desert Commando Course, also near Arta.
"Bandit Company executed innovative training while mitigating risk in the nearly uninhabitable terrain here," said Capt. Bryan Hotchkiss, EARF company commander. "We were able to accomplish mission training objectives and maintain the highest level of readiness."
The EARF team doesn't complete the mission solely within their unit: they also work with units from around Camp Lemonnier. For Cameron, the training and the joint environment have been "invaluable."
"(We have) a deeper and broader knowledge of everything; how it comes into play and how to better work together on the battle field," said Cameron. "It's been great to work with all the different Air Force units and the Navy, we didn't get to work with the Marines, but having them here and their presence has been an eye-opening and enjoyable experience."
Since assuming the EARF mission at CJTF-HOA back in February 2016, the EARF team has adapted to working in the joint and austere environment to better reinforce regional security.
"As a company commander, I could not be more proud of the performance of Bandit Company, 3/15," said Hotchkiss. "Every task or goal was met with determination and achieved. The company has displayed discipline and dedication to the mission every day, clearly focused on crisis response."