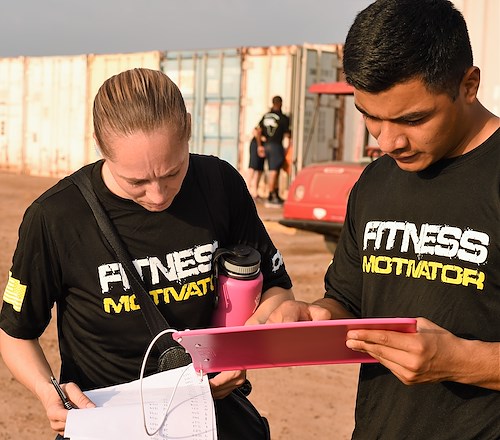 2 photos: CJTF-HOA groups enhance fitness program, leaders through philanthropy
Download full-resolution image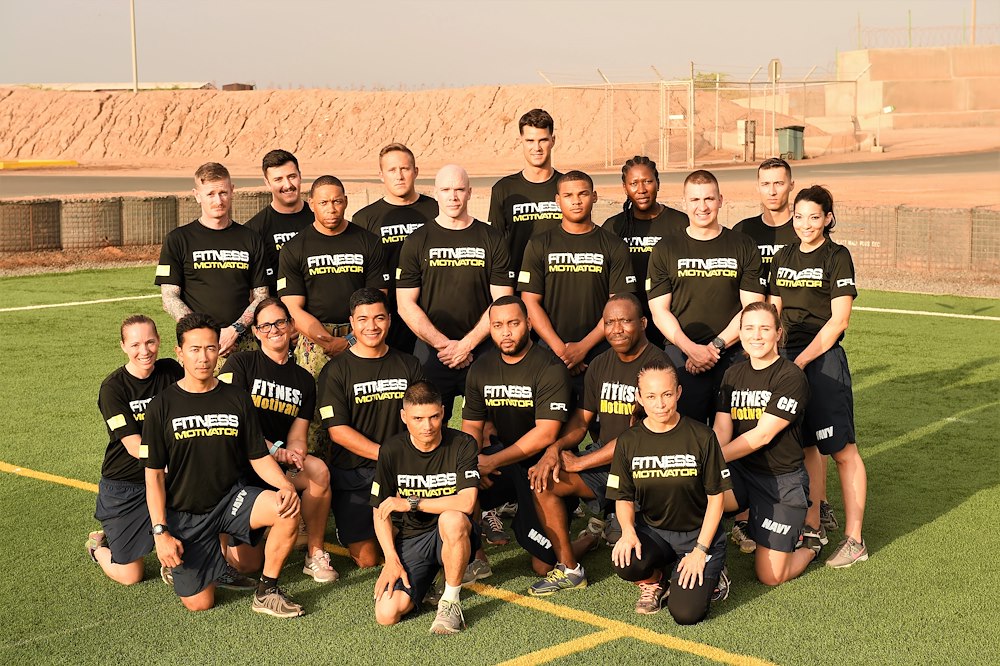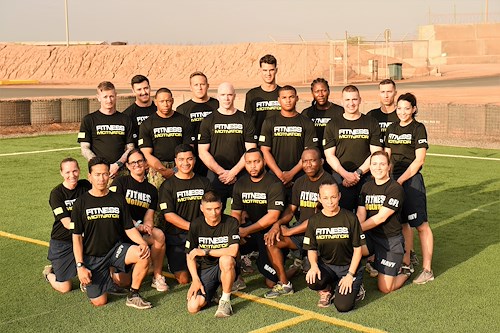 2 photos: CJTF-HOA groups enhance fitness program, leaders through philanthropy
Download full-resolution image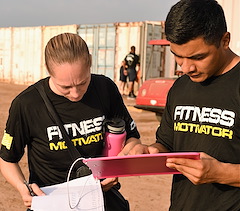 CAMP LEMONNIER, Djibouti – Sometimes items commonly taken for granted become more significant in the deployed environment. Take, for example, a simple T-shirt.
The gold performance physical training (PT) shirt is standard for U.S. Navy members. But due to the function that assistant command fitness leaders (ACFLs) play in Sailors' careers, ACFLs commonly don distinct shirts to characterize their unique traits: a commitment to excellence, to provide an inspiration for improved fitness and to secure safety during fitness sessions.
ACFLs recently noticed a shortage of their unique shirts and the problem it posed.
"The ACFLs play an important role for the Sailors," said Petty Officer 1st Class Celeste Dunlap, the Combined Joint Task Force–Horn of Africa (CJTF-HOA) command fitness leader. "We realized we needed to be distinguishable and wanted people to know that we're the ones whose job it is to motivate these Sailors and encourage them to get off the [fitness enhancement program]."
ACFLs knew shirts would have to be purchased, however, funding nearly 20 shirts in the deployed environment can be a challenge within itself.
"Maybe a shirt doesn't seem like a big deal; here in Djibouti, it's huge," said Dunlap. "It's like any other military uniform in that it serves to represent what the person wearing it stands for."
Collecting the capital for the seemingly simple-to-obtain item required work, commitment and – most importantly — the joint support of professional military associations.
"First we reached out to [the Morale, Welfare and Recreation office], but they couldn't do it," said Dunlap, "Then we reached out to both the camp and to [CJTF-HOA] to see if they had funds...But, that didn't work out either."
Despite the snags, Dunlap and her crew continued, refusing to abandon their search for support.
"We kept thinking, 'Okay. Let's figure out another plan,'" she said. "We are going to get these shirts."
Their resolve intact, Dunlap and her fitness team presented their query to the various professional military associations on base. And it worked.
The ACFLs made their initial pitch to the Joint Senior Enlisted Council (JSEC), whose mission includes enhancing the health, morale and welfare of service members. While the JSEC couldn't provide monetary support as an organization, members were able to singularly collect funds for the initiative. Unfortunately, more would be needed to see the mission come into fruition.
"So, then we went to the chief petty officer organization here," Dunlap said.
Again, the motivated ACFLs were successful. Now even closer to their goal, the fitness leaders reached out to one last group.
"Overwhelmingly, we voted in favor of funding them," said Petty Officer 1st Class Mark Kozee, member of the installation's ECHO 6 – the joint E-6 military grade professional organization here. "One of the main reasons I voted in favor of this was to set the fitness leaders apart from those in the regular PT gear. When you're in this environment everything looks the same," he continued. "So when something looks different, it stands out very quickly and easily, which is what those shirts were designed to do."
Kozee, currently enrolled in the FEP program, continued by stating that being a fitness leader is a significant collateral duty, asserting that fitness is a cornerstone of Navy culture.
"These (ACFLs) work very hard: they get up early, they stay late, they go to meetings, they keep track of records, they keep muster reports, they lead PT, they complete specialized training, all on top of conducting the physical fitness test twice a year," he said.
Additionally, ACFLs conduct the mandatory weigh-in for in-processing Sailors. They track and work to help members' physical training, motivation and support healthy habits. When necessary, they assign and lead members to a FEP. Safety is primary component for ACLFs – who are all CPR qualified and the primary safety enforcement personnel during fitness procedures.
"Seeing the shirts reminds me of where I could be and where I need to be regarding my fitness," explained Kozee. "I got into the FEP because I didn't pass the run, but when I got into the program I took it very seriously. So I'm proud for [the ACFLs]; they deserve to stand out for the work they do to support their shipmates."
The arrival of the shirts brought a sense of recognition with them as well.
"I don't think the ACFLs usually get the recognition they deserve. And I'm glad to see that the joint military associations of both camp and (CJTF-HOA) came together to support a good cause."