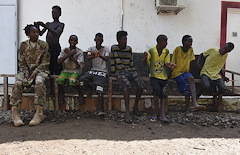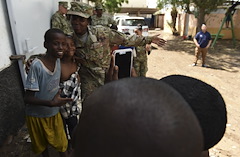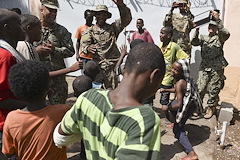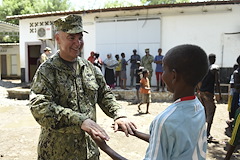 CAMP LEMONNIER, Djibouti-- A shirtless child at Caritas Djibouti walks up to U.S. Air Force Staff Sgt. Grace Henderson, points to her hair and then reaches for his own.
Henderson's hair, adorned in multiple twists, seemed to draw him in by both its likeness and variance to his own.
Smiling, she motioned for the child to come closer. Using a few locks of her hair she demonstrated the twisting gesture used to accomplish her hairstyle. Without hesitation, the boy joined her, twisting her tresses himself.
"There are no words for that connection," said Henderson, a controller assigned to the Combined Joint Task Force-Horn of Africa Personnel Recovery Coordination Cell. "Two worlds apart and two different languages, but our hair was something that brought us together."
Henderson was one of more than 20 service members from Camp Lemonnier to visit Caritas Djibouti on May 16.
Caritas Djibouti is one of the many operations that function within Caritas Internationalis, which has an overall goal to serve the poor and to promote charity and justice throughout the world. The mission contributes emergency humanitarian aid and education to the inhabitants of Djibouti, mostly to children living on the street.
The Combined Joint Task Force - Horn of Africa Religious Affairs Office, organizes frequent trips to Caritas Djibouti. The periodic visits are part of an ongoing effort to interact with religious leaders of different faiths in the local communities. This allows service members to make an impact on the locals and share experiences with the children who visit the mission daily.
"It allows us the opportunity to engage with religious leaders in order to foster peace and security in order to build sustainable partnerships throughout East Africa," said U.S. Army Capt. Donald Mooney II, Deputy Director of Religious Affairs.
This Religious Affairs initiative simultaneously supports the Africa Command's objective of enabling safe, stable and prosperous East African nations while providing service members a chance to have an eye-opening experience through humanitarianism.
"During deployments, most service members want to make a difference and have a positive impact in some way to the host nation," said Mooney. "What a better way than to give a Soldier, Airman, Sailor or Marine the opportunity to visit Caritas and not only donate things but, take advantage of the chance to interact with these kids and show them that we care for them."
While service members may have a goal of making an impact on the children they visit at Caritas Djibouti, often times, the interactions make a positive impact on them as well.
"Today, I was so fortunate to be able to make my way to the ones I care about the most--- the children," said Henderson. "It was a very rewarding, yet humbling experience. I believe it is so important to get out into the community and see what life is like for the locals because it is very different from what service members have within the Camp. Visiting Caritas Djibouti helped me see the big picture of my mission here and I look forward to going back."
For more information on how to get involved with efforts like this one, contact the Combined Joint Task Force- Horn of Africa Religious Affairs office.