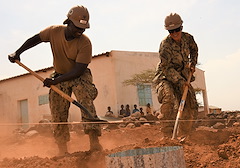 "Back. Front. Back. Back. Front."
A muddy trickle of sweat trailed down Petty Officer 3rd Class Lacy P'Pool's face, her voice gently directing a hand-clapping game with the little boy.
"Front. Back. Back. Front." The strikingly dissimilar duo rhythmically patted each other's hands in sync during the Seabees' pause from laboring under the oppressive East African sun. The Djiboutian child's smile mirrored that of his camouflage-clad friend who – minutes prior – was vigorously maneuvering mounds of the Arta region's red, silty soil.
P'Pool, a member of the U.S. Navy's Naval Mobile Construction Battalion ONE (NMCB 1) deployed to the Combined Joint Task Force-Horn of Africa (CJTF-HOA) here, is one of approximately ten Seabees charged with fabricating a medical clinic to serve the populous. Situated between a quaint school and a cluster of makeshift dwellings housing a cluster of families, the clinic is slated to provide maternity and newborn care.
But the CJTF-HOA Seabees are doing more than building a structure; they're building bonds.
"When we first got to the site, the kids were throwing rocks at us; they didn't want us here," said P'Pool. "But that doesn't happen now. Now, they're much more trusting and I think they even like seeing us here."
In the weeks following the project's revival on May 2, the rapport between military members and local civilians has seen a dramatic shift. P'Pool continued by explaining that this developing confidence didn't occur overnight, but took weeks.
Daily, the Seabees arrived to the job site and toiled for hours under cautious review of those around. Eventually, the trust of the local public developed alongside the construction site itself, personifying the growing bonds between the U.S. military members and the locals.
All members of CJTF-HOA support the U.S. Africa Command theme of countering transnational threats. A method of accomplishing this is by engaging with partners to deter, disrupt and deny violent extremist organizations (VEOs) in the region. By informally forging partnerships with the local population through friendly behavior, the CJTF-HOA Seabees are directly helping to deter the recruitment practices of VEOs.
"What we're doing here could be looked at as antiterrorism measures in two ways," said Petty Officer 1st Class Patrice Young, NMCB 1. "First, we are creating a structure that will help keep people healthy. A physically healthy community is going to be more capable in defending itself against acts of terror than one that is physically unable due to illness or disease.
"Second, our presence and the way we conduct ourselves serves as proof of what we, as the U.S. military, stand for: we do not have to use weapons to be a force for good."
While both the facility and friendship continue to be nurtured, the regional public seems to be embracing the budding partnerships.
"At first the kids were a little confused," said Amin, teacher at the school near the site. "But now that they know what is going on and they see how important it is to have the Americans here."
Amin continued by stating that he hopes his students grow to remember the positive activities of the U.S. military.
The CJTF-HOA Seabees share that sentiment.
"There's a part of me that thinks, 'Maybe if they're ever approached by al-Shabaab and have to make a decision to do right or wrong, they'll think about us here,'" P'Pool said. "Maybe they'll remember that we built this clinic for them. Or they might just think about our friendship and make the choice to not participate in a [violent extremist organization]."