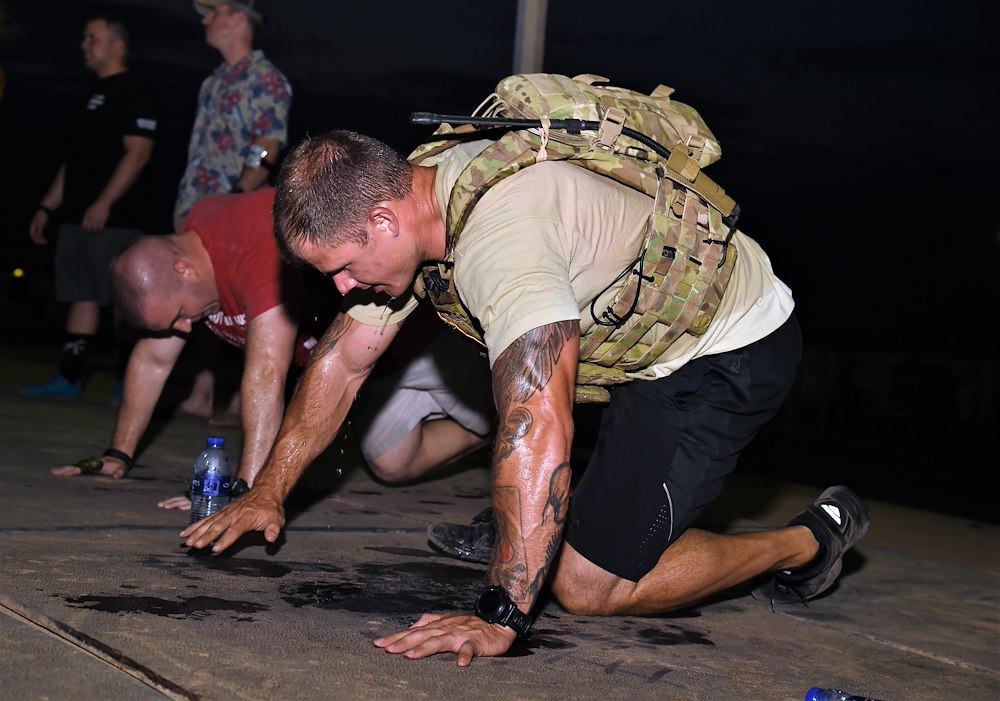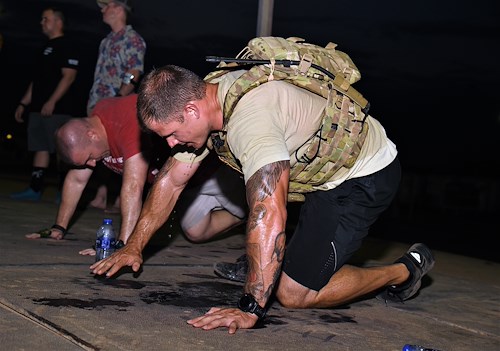 3 photos: CJTF-HOA, Camp honor fallen SEAL with unconventional Memorial Day practice
Download full-resolution image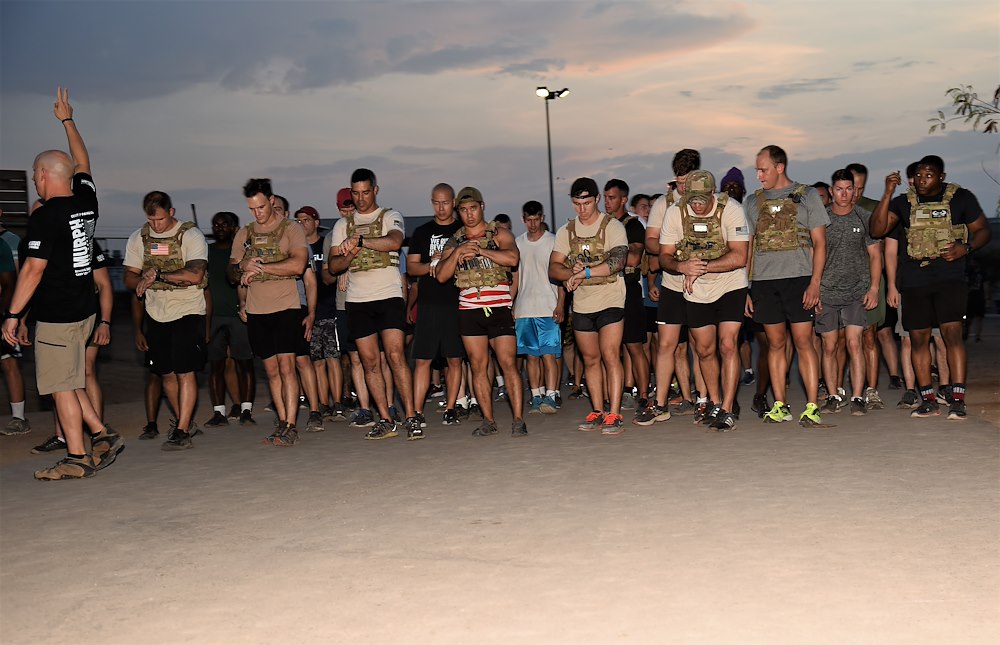 3 photos: CJTF-HOA, Camp honor fallen SEAL with unconventional Memorial Day practice
Download full-resolution image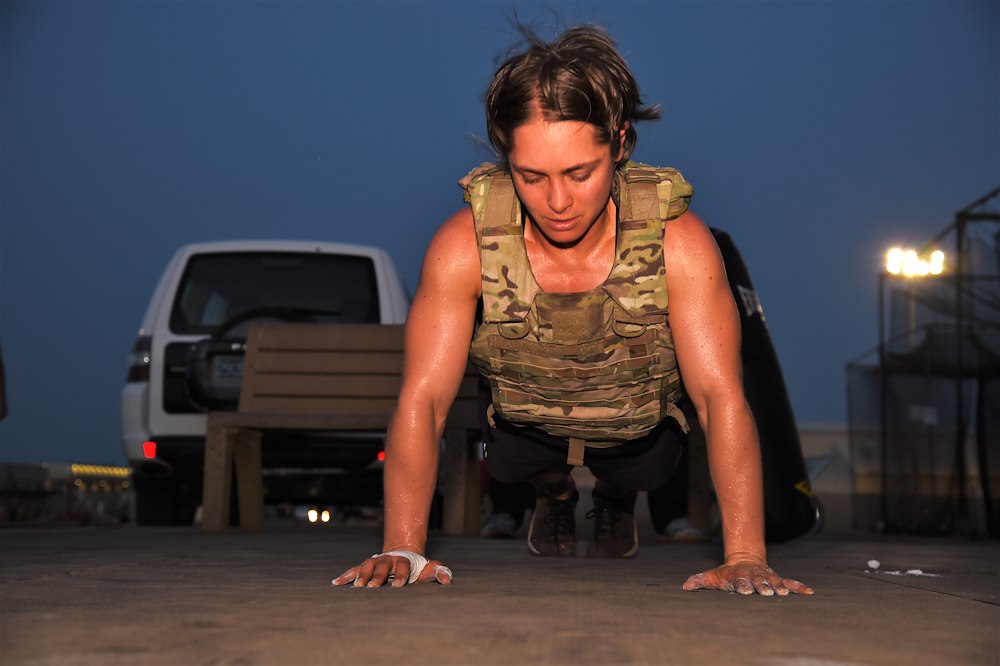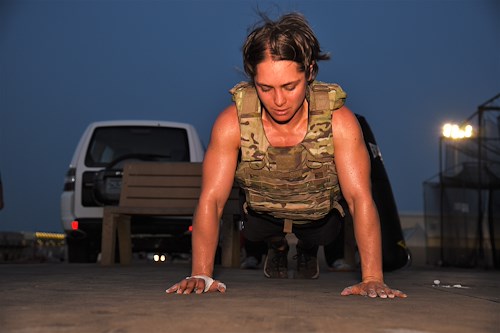 3 photos: CJTF-HOA, Camp honor fallen SEAL with unconventional Memorial Day practice
Download full-resolution image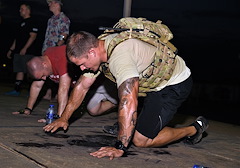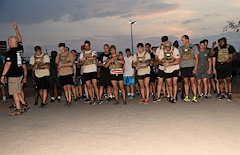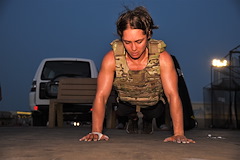 CAMP LEMONNIER, Djibouti – Approximately 200 multinational military members and civilians commemorated Memorial Day by participating in a demanding fitness challenge here, May 27.
The workout regimen was named after and in honor of U.S. Navy Lt. Michael Murphy, member of the Navy's Sea, Air and Land (SEAL) team who was posthumously awarded the Medal of Honor in 2007.
"We wanted to host an event that was different and gave people a purpose to do more than just write a [social media] post saying, 'Happy Memorial Day,'" said U.S. Army Capt. Skylar Moran, Combined Joint Task Force – Horn of Africa (CJTF – HOA) Current Operations for the Communications Directorate deputy director and the event lead. "By doing this hour workout, it's a whole different way to observe Memorial Day: you sacrifice a little for those who sacrificed it all."
While Memorial Day may conjure up images of picnics, relaxation and barbeque, members here revered the day - and Murphy's memory - through a series of pullups, pushups, leg exercises, and running. The challenging series of drills, which many completed wearing 20-pounds of body armor, was intended to invoke a sense of worth and humility because of what the holiday stands for, according to Moran.
As seen by the outpouring of support, that mission was accomplished.
"We've had a lot of Camp [Lemonnier] and [CJTF-HOA] interest that just made it take off," said Moran, who hopes to see the event carry on yearly. "Good things usually do."
The workout, which is traditionally held on Memorial Day, was created by a popular fitness program, CrossFit, that implements constantly varied functional movements performed at high intensity. This specific fitness program commonly names its training sets after fallen military and police. Implemented here last year, it has been carried out on Memorial Day throughout the U.S. since approximately 2010, serving as the official annual fundraiser of the LT. Michael P. Murphy Memorial Scholarship Foundation.
"We saw that Camp was putting on events, but there wasn't anything that challenged us to give of ourselves," said Moran. "We wanted to offer an event that brought people together and personified self-sacrifice."
Some partakers took on the challenge to test their physical prowess, while others participated in the name of honor and esprit-de-corps.
"It was great to be here and with all of my friends," said event participant U.S. Navy Lt. Cmdr. Elisabeth Erickson, CJTF-HOA Plans & Policy posture planner "The community here is part of what has made this deployment worthwhile."
Participants in this year's event included service members and associates from the Combined Joint Task Force – Horn of Africa, Camp Lemonnier and the 449th Air Expeditionary Group, as well as international military partners from France and Italy deployed to East Africa. The varied group of contestants could be viewed as representing U.S. Africa Command's and the international community's comprehensive approach to addressing the complex security challenges in the region.
With smiles, sweat and support, members put forth a physical display of veneration in the name of Memorial Day and Murphy.
"This event helps us remember why we're here. We have our fellow service members fighting the fight, some we've lost" said Erickson. "But also, the reason we do [physical training], is to be ready for when our time comes. And events like this help to keep us physically and mentally equipped to do that."