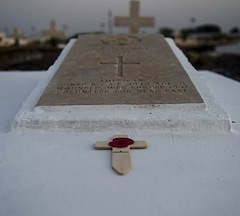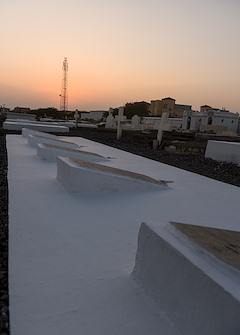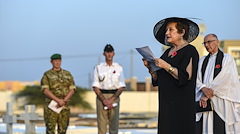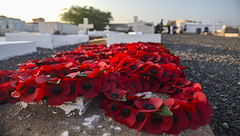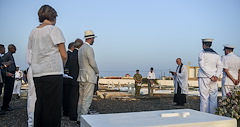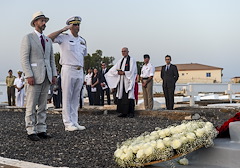 Service members from Combined Joint Task Force - Horn of Africa joined other representatives of the United States, the United Kingdom, Russia, and the European Union as they honored service members who gave their lives during wartime at a Remembrance Day ceremony held at the Djibouti New European Cemetery near Camp Lemonnier, Djibouti, Nov. 7, 2017.
Similar to Veterans Day in the United States and formerly known as Armistice Day, Remembrance Day, traditionally observed on November 11, is a day set aside to commemorate the day hostilities ceased on the western front during World War I. Today, it has evolved into a time to reflect on the sacrifices of all service members who have given their lives in service of their countries in wars since.
After a brief welcoming from Susanna Moorehead, British Ambassador to Djibouti, the Rev. Roger Kay, rector of Saint Matthew's Anglican Church, Addis Ababa, Ethiopia, presided over the ceremony and bid those in attendance to come closer with a prayer, reminding them of the reason they had gathered together that day.
"We are assembled here in the presence of God to remember before Him those who in days of strife died for their fellows, and the right they saw," Kay said.
Kay also encouraged the attendees to remember the reason these service members gave their lives.
"We shall also pray for the world they died to serve," he said. "That goodwill, trust, and peace may supplant hatred, fear, and conflict so that the fruits of the lives they gave in death may not be wasted or lost."
The ceremony proceeded with attendees singing hymns, reading scriptures, and paying their respect during the traditional two minutes of silence, which generally coincides with the time in 1918 at which WWI hostilities came to an end.
The two minutes of silence hold significance, with the first minute designated as a time to give thanks for those service members who returned alive, while the second minute as a time to remember the fallen.
After the moment of silence, representatives from each country laid flowers or wreaths of poppies at the steps of the cemetery's cenotaph.
Quoting John McCrae's poem, "In Flanders Fields," Col. Matt Munro, British defence attaché to Ethiopia, reminded the audience of the significance of the poppies many attendees wore on their lapels:
"Take up our quarrel with the foe:
To you from failing hands we throw
The torch; be yours to hold it high.
If ye break faith with us who die
We shall not sleep, though poppies grow
In Flanders fields."
As attendees prepared to depart, Kay left them with another entreaty to honor the fallen service members' sacrifice.
"As we have remembered the price paid by men and women when strife and hatred were let loose," Kay said, "let us go from this place to extend, to deepen, and to secure the peace we have received with true thanksgiving."