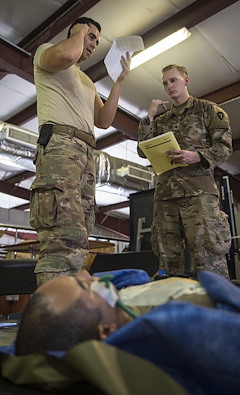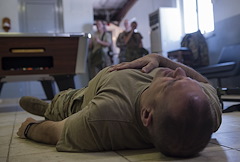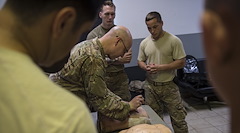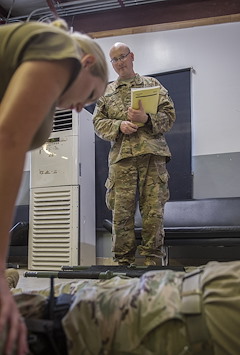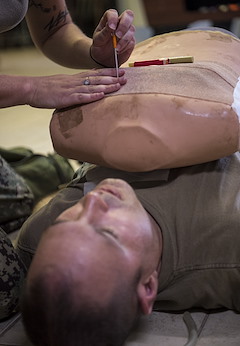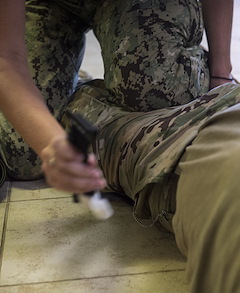 U.S. Army, Navy, Air Force and Marine Corps service members assigned to the Combined Joint Task Force – Horn of Africa (CJTF-HOA), attended a U.S. Army Combat Lifesaver Course held at Camp Lemonnier, Djibouti from Nov. 27 to Dec. 1, 2017.
The five-day course focused on teaching students how to provide lifesaving tactical medical care to casualties on the battlefield. During the course, students learned how to control bleeding, manage airways, and transport casualties.
"You have a lot of components," said U.S. Army Staff Sgt. Richard Rye, a combat medic and instructor from the 443rd Civil Affairs Detachment. "You're just trying to put all the components together in a real-time scenario."
To help them better prepare for the scenario, the 10 students began by studying the application of each skill in a classroom setting. A follow-on practical exercise allowed them to test those skills in a simulated environment.
"The best part about class was the hands-on portion," said U.S. Navy Utilitiesman 3rd Class Amanda Stone, assigned to Naval Mobile Construction Battalion 133. "I feel more comfortable that if I was in a combat situation and had to apply first aid, I would feel more competent in my skills and myself now."
Every student is required to complete the practical exercise to demonstrate knowledge in tactical field medical care as part of the 40 hours of classroom instruction.
The ability to remain focused and correctly assess wounds to administer aid is an important part of the practical exercise.
"The most challenging part of the course is really just keeping your head on," said U.S. Navy Hospital Corpsman 1st Class Ludwig Williams, a radiology technician assigned to the Camp Lemonnier Expeditionary Medical Facility. "(You) look for bleeding, then you go to airway, and circulation in that order opposed to going for airway (first) in the civilian world. You've got to stay focused."
Students who successfully completed the 40-hour block of instruction and practical exercise are certified Combat Lifesavers.
"Handing them their certificates is the best part," Rye said. "(It's) watching them walk in with a basic understanding and have them leave with valuable new skills on how to treat a casualty."