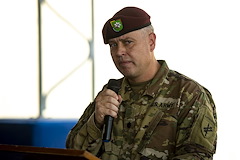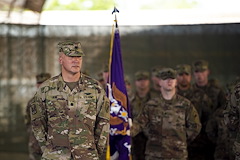 The 403rd Civil Affairs Battalion received authority from the 404th CA Battalion through a transfer of authority ceremony on Camp Lemonnier, Oct. 13.
Both the 403rd and 404th are reserve forces, their soldiers utilizing their civilian skills to help mission accomplishment in deployed environments.
In Djibouti, serving under the Combined Joint Task Force Horn of Africa, the CA mission is spread across the combined joint operating area, ranging from veterinarian and medical assistance, security training, in countries like Tanzania, Uganda and Kenya, to English discussion groups here in Djibouti. All while working with leaders to ensure partnerships are strengthened.
Lt. Col. Stefan Adamcik, 404th CA Battalion commander, felt the 404th was leaving on a good note.
"I think my battalion did magnificently; we're very excited to be going home," said Adamcik. "It's been a long tour and we've done a lot, so we're looking forward to getting back to our families and home."
This is Adamcik's fourth tour in Djibouti.
"I think CJTF-HOA in the present configuration, it's the best it's ever been," said Adamcik. "We've got the best balance of focus on all the theater countries. I just have a really good feeling about it."
For the incoming battalion, he left a few words of advice.
"Flexibility, agility of thought, always to approach a problem set with all the tools that CA trains to do and be flexible about it," said Adamcik. "Things can change; it's a dynamic theater."
Adamcik reflected on what he thinks his battalion did best.
"We were able to never fail the command," said Adamcik. "Whenever they asked for a mission, they wanted us to be somewhere, we were there. We were able also to be predictive about what CJTF HOA needed. We gave them more than what they asked for many times."
Lt. Col. Scott Kim, 403rd CA BN commander, looks forward to taking command of the CA mission.
"I feel great; they set us up for success," said Kim. "They [the 404th] have definitely moved the needle in a noticeable way. They have built the reputation of Civil Affairs, and I think they've helped some of the joint staff better understand what our role is.
Kim, like many of his soldiers, has deployed to Djibouti in the past.
"I have a number of soldiers who have deployed here as recent as two years ago," said Kim. "We're excited to come back because the operating environment has matured a bit, so that it's more understanding of civil affairs. The new soldiers are excited to be here because it's their first deployment. From talking to the previous battalion, they realize this is a good time to be here."