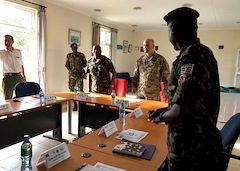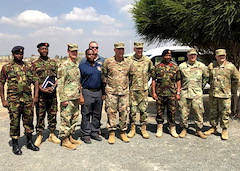 NAIROBI, Kenya -- U.S. Air Force Brig. Gen. James R. Kriesel, deputy commanding general of Combined Joint Task Force-Horn of Africa, visited the Kenyan capital of Nairobi April 2-3, 2019, as part of a familiarization tour of the CJTF-HOA combined joint operations area.

Kriesel began his engagements in Kenya with a speech at the Counter-Improvised Explosive Device strategy development seminar, hosted by the Humanitarian and Peace Support School in Nairobi's Embakasi district.

"The threat of IED attacks is an enduring and growing problem due to accessible material and readily-available information," said Kriesel. "Reacting to an IED blast is not a winning strategy. We need to establish a realistic approach to counter and prevent the use of IEDs through a proactive and whole-of-government and societal approach."

U.S. Africa Command developed the C-IED seminar with support from international partners, including the British Peace Support Team in Embakasi, the International Criminal Police Organization, and the NATO C-IED Centre of Excellence. The seminar aims to bring together strategic stakeholders, and encourage African partners to address the IED problem at its root causes, through drivers of instability and countering violent extremism. Kenya's eastern border with Somalia is where the country faces the majority of IED threats from al-Shabab militants.

"[Kriesel]'s visit to Kenya was an important demonstration of the U.S. government's commitment to building our African partners' capacity to mitigate a complex threat that shows no signs of abating," said Michael Solis, AFRICOM C-IED program manager. "AFRICOM is leading a campaign to align Western partner nations' capacity building efforts, so we achieve greater harmony and unity of effort."

In addition to the seminar, Kriesel met with U.S. Ambassador to Kenya Kyle McCarter and the commander of the British Peace Support Team, Col. Geoff Minton.

Kriesel's visit reinforced CJTF-HOA's support of C-IED strategies and the importance of collaboration in combating this threat.

"Asante sana," Kriesel said to C-IED seminar attendees. "Thank you for your participation, contributions, volunteerism, support and sacrifices in our combined effort to address the persistent threat of IEDs."