Deputy Commanding General - Somalia
Brigadier General Miguel A. Castellanos
United States European Command
CJTF-HOA Deputy Commanding General in Somalia Biography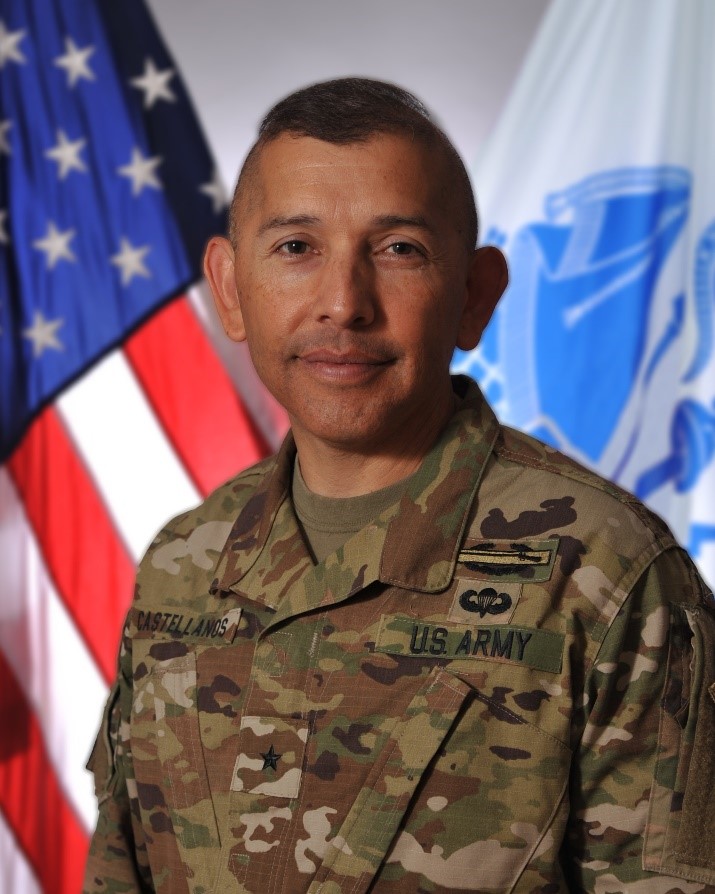 Brigadier General Miguel A. Castellanos is the Deputy Commanding General for the Combined Joint Task Force-Horn of Africa (CJTF-HOA) in Somalia and the Mogadishu Coordination Cell Director. As the senior U.S. military officer in Somalia, he is the U.S. military liaison to the Federal Government of Somalia, the African Union Mission to Somalia, Somali National Security Forces, and other international partners. Working from the Mogadishu International Airport compound, he and his team support combined military efforts to achieve U.S. Africa Command's top priority of defeating al-Shabaab in Somalia and successfully transitioning security functions to the Somali National Security Forces. Prior to his current assignment he was the Deputy Director for the Strategy, Plans, and Programs Directorate, U.S. Africa Command.
After graduating from California State University Fresno as a Distinguished Military Graduate, he was commissioned as a second lieutenant of Infantry in 1987. Brig. Gen. Castellanos' military education includes the Infantry Officer Basic and Advanced Course; Basic Airborne; Ranger Course; Civil Affairs Advanced Course; Command General Staff College; and Army War College.
Brig. Gen. Castellanos has served in a variety of command and staff assignments during his 30-year career. He was a Bradley Platoon Leader with 4th Battalion 18 Infantry and a Support Platoon Leader in Operations Desert Shield and Desert Storm. After a year tour with the U.S. Army Marksmanship Unit at Fort Benning, Ga., he became the Assistant G3 Plans, 10th Mountain Division, Watertown, N.Y., from where he also deployed to Mogadishu, Somalia, and worked as Assistant J3 Plans, Joint Task Force Somalia. He also served as Commander, D Company, 415th Regiment 104th Training Division; Assistant Operations Officer, 445th Civil Affairs Battalion; Executive Officer and later Commander, Headquarters and Headquarters Company, 351st Civil Affairs Command.
In the Active Guard and Reserve program, he was the Operations Officer, 445th Civil Affairs Battalion, Mountain View, Calif., and in 2002 attended Command and General Staff College at Fort Leavenworth, Kan. At U.S. Pacific Command, Camp Smith, Hawaii, he was the Assistant Plans and Operations Officer in the Civil Military Operations Branch, and later returned to the 351st Civil Affairs Command to be the Operations Officer. In 2006, he assumed command of the 416th Civil Affairs Battalion (Airborne) in San Diego, Calif. In 2008, he was selected to attend Army War College at Carlisle Barracks, PA, and upon graduation became the Deputy Commanding Officer and later interim Commander, 7th Psychological Operations Group, in Moffett Field, Calif. In 2013 he assumed command of the 361st Civil Affairs Brigade (multifunctional) in Kaiserslautern, Germany, and deployed to Senegal for Operation United Assistance with the 21st Theater Sustainment Command's Regional Support Element.
His awards and decorations include: Legion of Merit with Oak Leaf Cluster; Bronze Star; Defense Meritorious Service Medal; Meritorious Service Medal with three Oak Leaf Clusters; Joint Commendation Medal, Army Commendation Medal with seven Oak Leaf Clusters; Combat Infantryman's Badge, Parachutist Badge, Distinguished Rifleman's Badge, Presidents 100 and Ranger Tabs.
(Current as of June 2017)
Tags