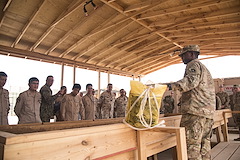 Senior military leaders from Japan, Italy and the U.S. attended a Combined Joint Forces Senior Enlisted Leader Professional Development (CJFSELPD) course in Djibouti, June 8, 2016.
The CJFSELPD brought together the highest-ranking enlisted leaders to learn about some of the U.S. missions in Djibouti. The SELs also used the event to continue to foster international relationships, exchange knowledge and welcome new leaders to the area.
"Today's course was a good opportunity for us," said Command Master Chief Tsutomu Iwashige, a Japan Maritime Self-Defense Force SEL who is attached to the Deployment Air Force for counter Piracy Enforcement. "We were able to deepen our understanding of the U.S. Air Force's role in Djibouti."
The SELs were briefed on U.S. Air Force missions in the area along with the branch of service's enlisted force structure. The brief included an overview of different programs associated with becoming a better leader to provide the coalition partners a better understanding, said U.S. Air Force Chief Master Sgt. Mark Cornell, senior enlisted leader for the 449th Air Expeditionary Group and 870th Air Expeditionary Squadron.
"This opportunity allows us, as senior leaders, to get together and talk about what's going on in our air bases, learn more about our missions and how we can develop more as a team," he said. "The phenomenal piece to that is being able to see our coalition partners, and, as we travel to the different bases, we get to see how they work and how they interact."
The coalition partners take turns hosting the bimonthly event. The next CJSELPD is scheduled to take place in August.
"The goal is to maintain and stay consistent. There's an influx of people that come in and out (of here) and any opportunity you can meet and learn from other senior leaders is going to make you a better person," said Cornell.