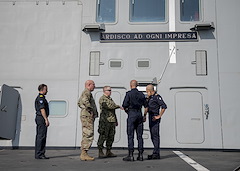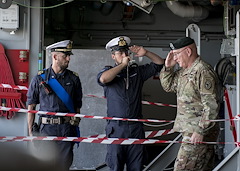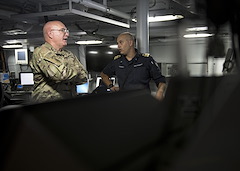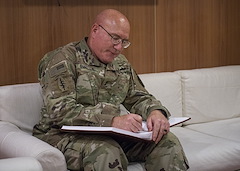 By Senior Airman Codie Trimble
CJTF-HOA Public Affairs

DJIBOUTI CITY, Djibouti – U.S. Army Maj. Gen. Michael D. Turello, commanding general of Combined Joint Task Force-Horn of Africa, visited with leaders of Operation Atalanta on board ITS Antonio Marceglia, outside Djibouti City, Djibouti.

Operation Atalanta is a European Union-led, counter-piracy naval operation off the Horn of Africa, covering the southern Red Sea, the Gulf of Aden and a large part of the Indian Ocean, including the Seychelles, Mauritius and Comoros.
"Our ongoing partnership with Operation Atalanta is an important one," said Turello. "I am honored to have had the opportunity to tour their flagship, ITS Antonio Marceglia."
Turello met with Italian Navy Rear Adm. Paolo Simi, force commander of Operation Atlanta, on board ITS Antonio Marceglia, the flagship of Operation Atalanta. Turello and Simi discussed the relationship between CJTF-HOA and Operation Atalanta. Following the meeting, Turello received a tour of the ship.
ITS Antonio Marceglia, a FREMM class frigate, is the eighth in its class and was delivered to the Italian Navy in April 2019. FREMM frigates are built by Italy and France and can be equipped with multi-function active radar, secondary radar, and navigation for helicopter precision approach. The ship is one of the final candidate designs for the Next-Generation Frigate for the U.S. Navy.