Camp Lemonnier volunteers teach English to Djiboutian civil servants
By
Combined Joint Task Force - Horn of Africa
Camp Lemonnier, Djibouti,
May 8, 2015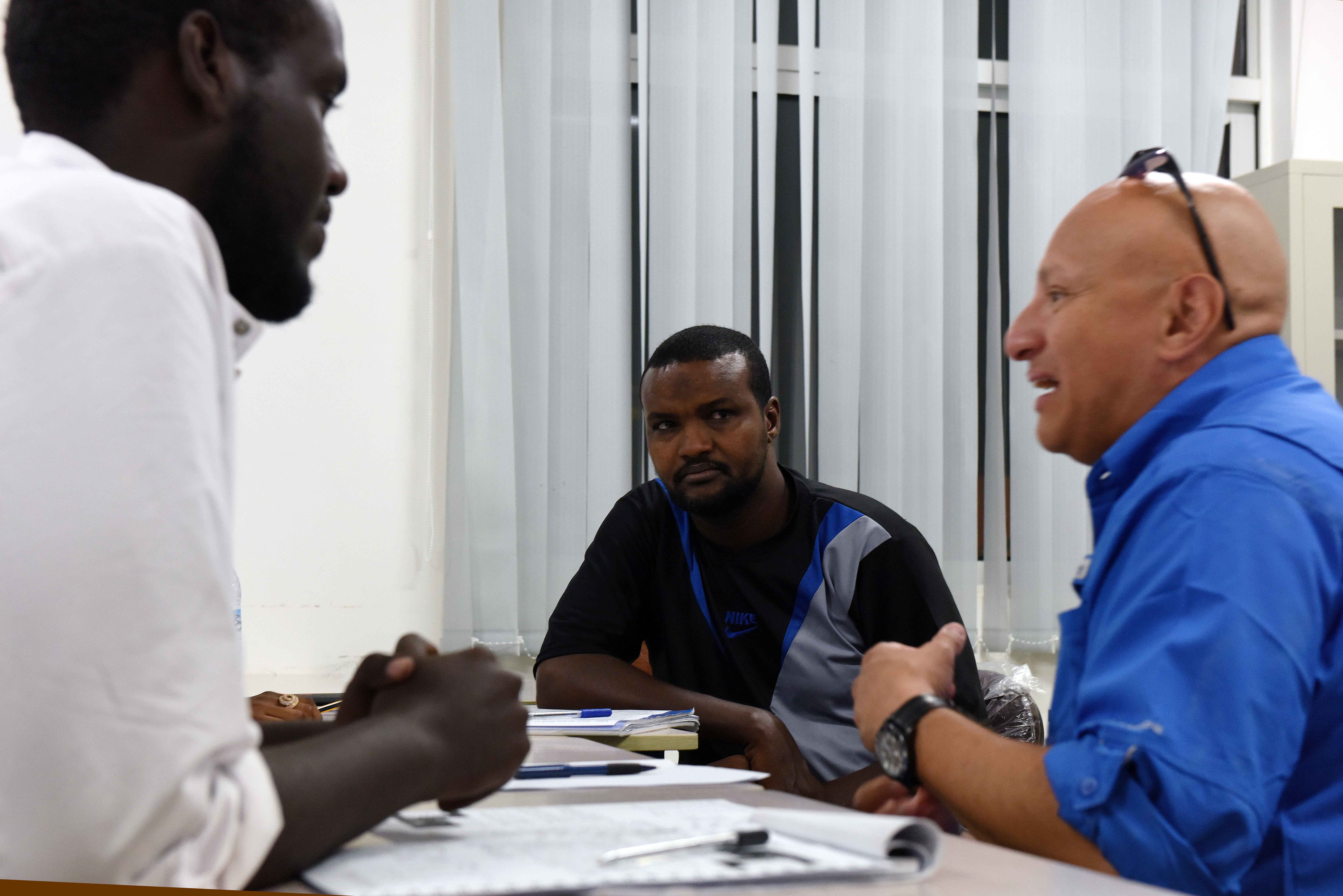 Combined Joint Task Force - Horn of Africa Image
A student listens to U.S. Army Capt. Ervin Arrendondo during an English class at the Diplomatic Institute April 29, 2015 in Djibouti. Arrendondo is the Civil Affairs Team lead who facilitates getting volunteers to the class. (U.S. Air Force photo by Staff Sgt. Maria Bowman/released)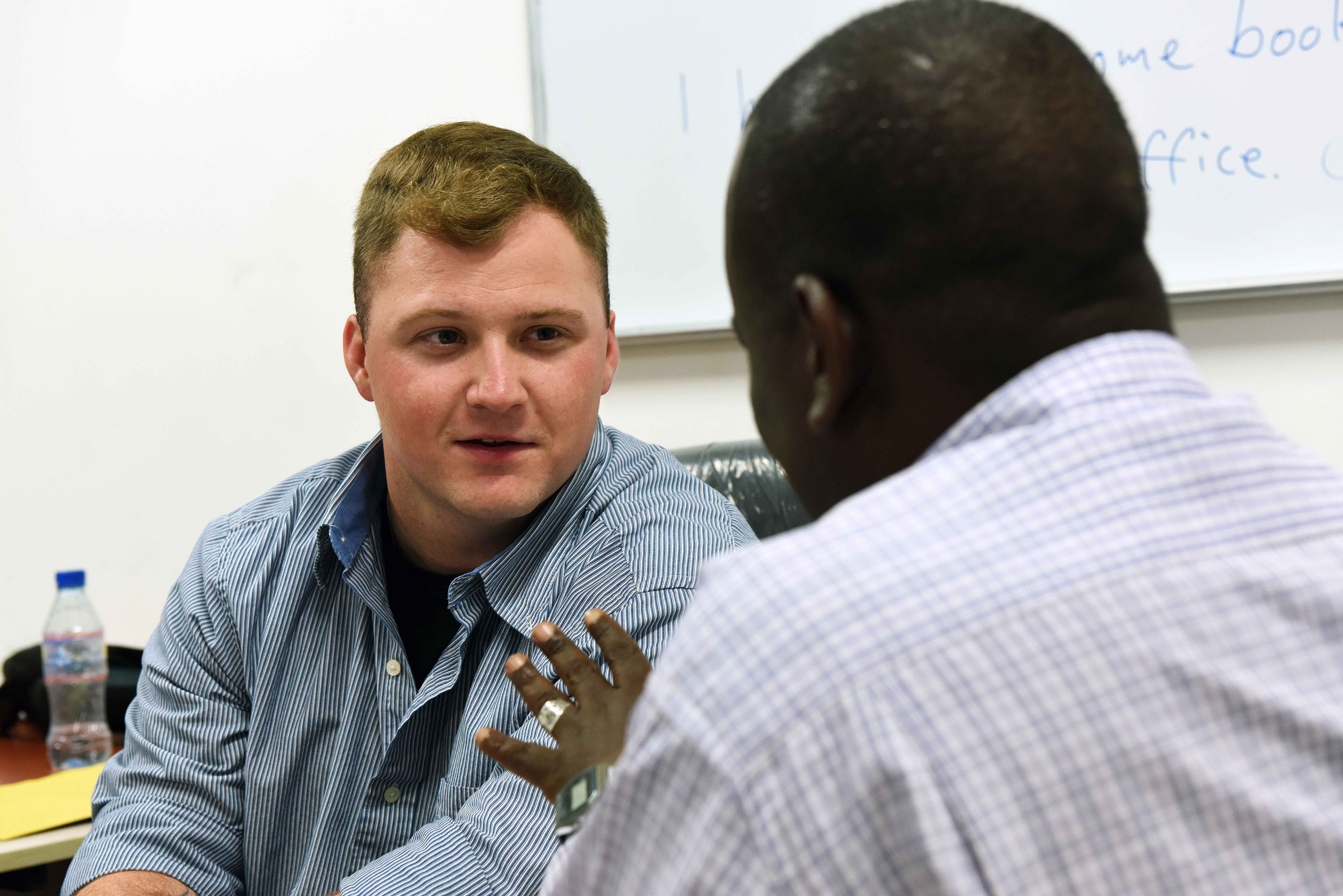 Combined Joint Task Force - Horn of Africa Image
Army Sgt. William Oliver, a volunteer teacher, works with a student on his English skills during a class at the Diplomatic Institute April 29, 2015 in Djibouti. The institute offers classes to civil servants who want to develop their ability to communicate in English. (U.S. Air Force photo by Staff Sgt. Maria Bowman/released)
Djibouti City is a multicultural community where understanding several languages can be key to opening up opportunities for economic growth. Because learning a new language can be difficult as an adult, the Institute of Diplomatic Studies in Djibouti now offers government-funded English classes for Djiboutian civil servants from the region who want to expand their understanding of the English language.
"We believe that teaching a language, especially English, is very important," said Daher Meraneh, Institute of Diplomatic Studies education programs deputy director. "English is very important in diplomacy; the predominate language is English. Knowing the language will help people negotiate on an international stage and express their views and position in English. They need to be able to have their senior leaders be able to communicate with their counterparts in English."
One student, Moktar Mahamoud, said his English-speaking skills have improved significantly since he began attending the class.
"At the beginning, it was a little difficult for us," explained Mahamoud. "Our English has improved; we've learned more vocabulary, expressions and some U.S. dialects. Coming here four days a week is a good way to progress my skills because of the opportunity to speak English and meet American friends. They talk with us, teach us how to pronounce words and look over our homework. The atmosphere is very nice. When we are studying, people are friendly, relaxed and in a good mood."
U.S. Army Capt. Ervin Arrendondo, 404th Civil Affairs Battalion team leader with Combined Joint Task Force-Horn of Africa, a volunteer who teaches English to the students, said he enjoys being in the classroom because the classmates are very enthusiastic about studying the language.
"Its little grains of sand that will build a mountain," he said. "The students are always eager to learn. They are very smart and some have traveled the world; they speak multiple languages and have earned multiple degrees. Teaching the civil servants English will go a long way to building a better, stronger relationship."
In its first academic year, the institute offers several classes, each meeting once a week. Camp Lemonnier personnel can teach classes held on Mondays, Wednesdays, and Saturdays.
ShaRon Williams, Institute of Diplomatic Studies English instructor, said that these classes allow the volunteers and people from Djibouti an opportunity to form bonds through communication.
"This program allows both groups of people to have informal dialogues," said Williams. "The Djiboutians can see similarities between them; they no longer see uniforms, but see them as people. This is a diplomatic bridging of differences, and it breaks down barriers. These classes open new horizons. The students want to learn English and enjoy the civil affairs volunteers coming to teach them. These small groups are invaluable."
For the volunteers, it is also an opportunity to leave the camp and learn more about the Djiboutian culture through their interactions with the students.
"This gives soldiers a glimpse of a culture they might not get otherwise," Williams said. "The students like to talk about their culture, including their food and clothing. Natural friendships are formed, and some people exchange their email addresses so they can keep in touch."
Meraneh said he is very happy for the dedication of the camp personnel, and that he hopes to help continue these relationships in the future.
"We are really grateful for the work that Civil Affairs does," he said. "We see a difference in our students. Bonds are created. It is more than just learning and teaching English; the classes bring two groups of people together and creates a strong partnership."
Tags