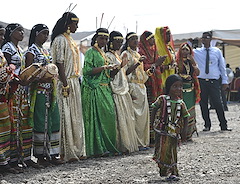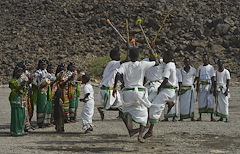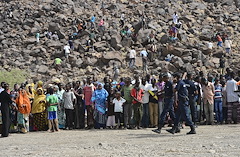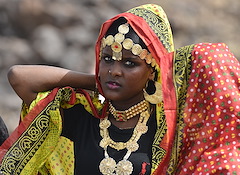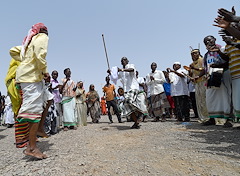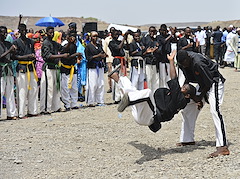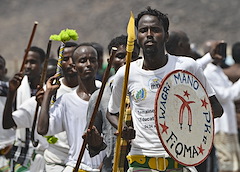 Members of the 404th Civil Affairs Battalion assigned to Combined Joint Task Force-Horn of Africa attended the 21st Induction Ceremony of the Sultan of Gobaad, near Dikhil, Djibouti, May 22, 2015.
The civil affairs team was invited to celebrate the historical enthronement of Habib Mohamed Loita, on behalf of CJTF-HOA. Over the past 10 years CJTF-HOA has drilled wells, renovated schools, shared medical practices and facility maintenance techniques with the people of Dikhil.
"Attending the event was definitely a very special moment for every single member of the team," said U.S. Army Capt. Erving Arredondo, 404th CA BN team leader. "We felt very privileged to accompany all the members of the government and the Afar people."
The sultan is a liaison between the government and the people. As a sultan, the people look to him to mediate political, domestic and social disputes at a low level and to distribute justice.
Called Boko Habib by the community, his authority extends to the territories East and South of Lac Abbe. Gobaad is one of two sultanates in Djibouti.
"The Sultan of Gobaad is known as the sultan of the people, he has as much power as the people give him," U.S. Army Sgt. Eugene Matarazzo, 404th CA BN team medic said. "He's well respected."
The official ceremony was the final part of a three-day musical and cultural event. Singers and dancers dressed in traditional Afar and Issa tribal apparel performed for the sultan, distinguished visitors and local Dikhil people.
"It brought people together; the festival itself showed deep ties to their traditions and culture," Matarazzo said.
Approximately 2,000 people attended the event, including several representatives from CJTF-HOA. Their presence reflects the friendship and ongoing partnership between the task force and its regional allies.
"It's an affirmation that the people of Dikhil see us as friends, as an extension of the community; we take it to heart," Arredondo said. "One day I was walking with our translator and he said, 'You're walking like an Afar.' He said it was an honor for the people to say that, it means you're part of the community now."