Fusion Action Cell provides strength through partnerships
By
Combined Joint Task Force - Horn of Africa
Camp Lemonnier, Djibouti,
June 25, 2015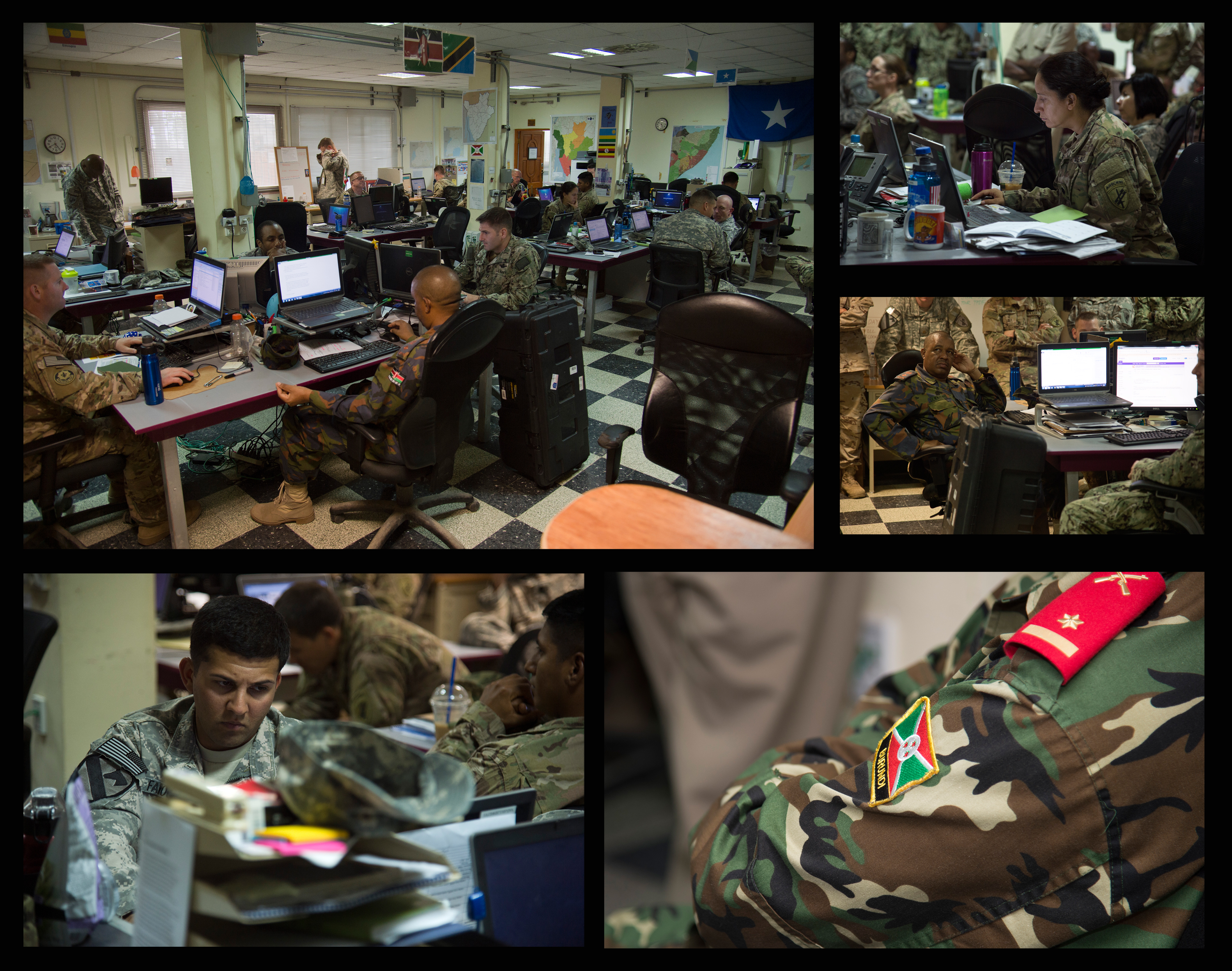 Fusion Action Cell provides strength through partnerships
The Combined Joint Task Force-Horn of Africa Fusion Action Cell is comprised of service members from the U.S., Europe and East Africa working together to setup military-to-military projects and civilian support initiatives in partner countries throughout the Horn of Africa. The FAC personnel are separated into country desks composed of subject matter experts and foreign liaison officers who are responsible for streamlining the planning and coordination of projects in their respective country. (U.S. Air Force graphic by Staff Sgt. Nathan Maysonet)
Combined Joint Task Force-Horn of Africa is a partnership. That partnership is built around trust, mutual support, and understanding among the U.S. and its allies in East Africa.
Since November 2014, the Fusion Action Cell (FAC) has been the central hub for building that trust and cooperation by enabling regional partners from East Africa, Europe, and America to work side-by-side in a centralized location to coordinate training, aid and support throughout the Horn of Africa.
"The FAC Hive provides CJTF-HOA and its partners a cultural perspective that enables us to better grasp regional issues and concerns, understand how we are perceived throughout the region, and to share and understand all of our partners' goals," said U.S. Army Col. Daniel Taylor, FAC Hive director. "Everyone has a role; ours' is the heartbeat-- the circulatory system. We touch all the projects here; we are the conduits and are the connectors who put the influencers together."
Prior to the Hive's creation, the cooperation and support necessary to carry out projects, including civil military operations and military training in partner countries, was difficult to gather and slow to put together. Language barriers, geographical distances and cultural differences also made coordination difficult.
"Personnel used to conceive and plan missions in isolation, often without much consultation and input from the liaison officers of the supported armed forces," said Uganda Peoples' Defense Forces Lt. Col. Okei Rukogota, FAC Uganda foreign liaison officer.
The FAC Hive was created to address this by bringing representatives from all the regional partners into a single office where foreign liaison officers and their CJTF-HOA counterparts could work, interact, plan and learn from each other.
"Staff here took the initiative to combine these working groups together to share information to meet the goal and expectations of their commands," said Comorian Security Force 1st Lt. Ahamadi Bastua, FAC Comoros foreign liaison officer. "Sharing information allows them to know the problems going on in East Africa."
Kenyan Defense Forces Lt. Col. Ndegwa Waweru, FAC Kenyan foreign liaison officer, explained that the FAC's creation and structure has improved communications throughout the region.
"The FAC Hive cross functional team has made coordinating among various partners much easier and more effective resulting in a more successful effects-based approach," said Waweru. "It has given us the ability to plan ahead and shape engagements to achieve goals we set, based on assessments."
This level of cooperation is achieved through the country desks. Each desk is composed of a country lead, a planner, a senior NCO, an intelligence specialist that specializes in that country, and a foreign liaison officer.
"They work very closely together," said British Army Lt. Col. Mike Bishop, FAC Regional Synchronization Branch chief. "Put all those country desks together and you get this hive construct. Each country desk is greater than the sum of its parts, and the FAC is greater than the sum of its parts. By adding these things together you build up more momentum, knowledge and experience."
An additional benefit provided by the FAC is the wealth of cultural and political knowledge the foreign liaison officers provide about their countries, explained Bastua.
"We can tell them what we know by teaching them the culture and explaining what is going on in the country," said Bastua. "This helps give them a better understanding of the countries. The FAC Hive is something very beneficial because it provides a better understanding of East Africa, not just militarily, but socially as well."
This joint environment allows for a more collaborative way of working, Bishop said. Traditionally, militaries rely heavily on operations, intelligence and logistics sections. Frequently, these sections work in isolation, but the structuring of the Hive prevents this "stove-piping."
"The FAC Hive is a way to bring all that together and work in a much more cohesive and coordinated way," said Bishop. "So, having the Kenya team working on Kenyan things, while sitting next to the Tanzanian desk and the Ethiopian desk, you have situational awareness. Everyone is sharing information about what they are doing and how they are achieving it, the problems they are encountering and how they are overcoming them, and its cross functional. They are working together and you don't have those stove pipes; they are covering the whole spectrum of operations."
Another important aspect of the FAC Hive is that it functions in an unclassified environment where information is more freely exchanged between countries. Originally, this work was classified as secret, which added to the difficulties of working with other countries, explained Bishop.
"By working in an unclassified environment we can all share and see the information we are working on, what we are trying to achieve, and how we are achieving it," said Bishop.
This environment also means the supported armed forces, through liaison officers, are better able to know and use opportunities presented to them, Rukogota said. It also means CJTF-HOA can better understand the needs of those they help, and can customize support packages and efforts instead of offering generic non-targeted assistance.
The key to all of this working, is trust, said Bastua.
"If you want the job done, you have to have confidence in the people you are working with," said Bastua. "Since we have been working here, we have confidence. Our job is like diplomacy; everything we report can affect relationships between these countries."
To date, the FAC has been responsible for facilitating numerous projects in partner nations. According to Waweru, the FAC has enabled three key projects to be put into action within his country.
"The FAC Hive Team has worked closely with Task Force Sparta to develop a counter IED course of instruction with a focus on a sustained, 'train the trainer' capability," said Waweru. "The team has also been working to complete the planning assessment phase of the indirect fire capability of Kenyan forces, which will increase the effectiveness of KDF IDF in Kismayo, Somalia, and have a positive effect on overall African Mission in Somalia maneuvers and movements. We are also worked with civil affairs and the KDF to develop a doctrine for civil military co-operation in Somalia."
Since its creation the FAC has brought countless players in Africa together. It helps develop the partnerships in the region into a more unified force capable of working together, said Bishop. While working in a coalition is still a new idea to many in Africa, the FAC has helped further it along. It is about helping get national assets to work in an international or regional environment.
The foreign liaison officers, and the country desks, are, as Taylor describes them, "the 220v adapters for CJTF-HOA's 110v world; they let us connect."
Tags