Command Senior Enlisted Leader leads through caring and compassion
Camp Lemonnier, Djibouti,
June 30, 2015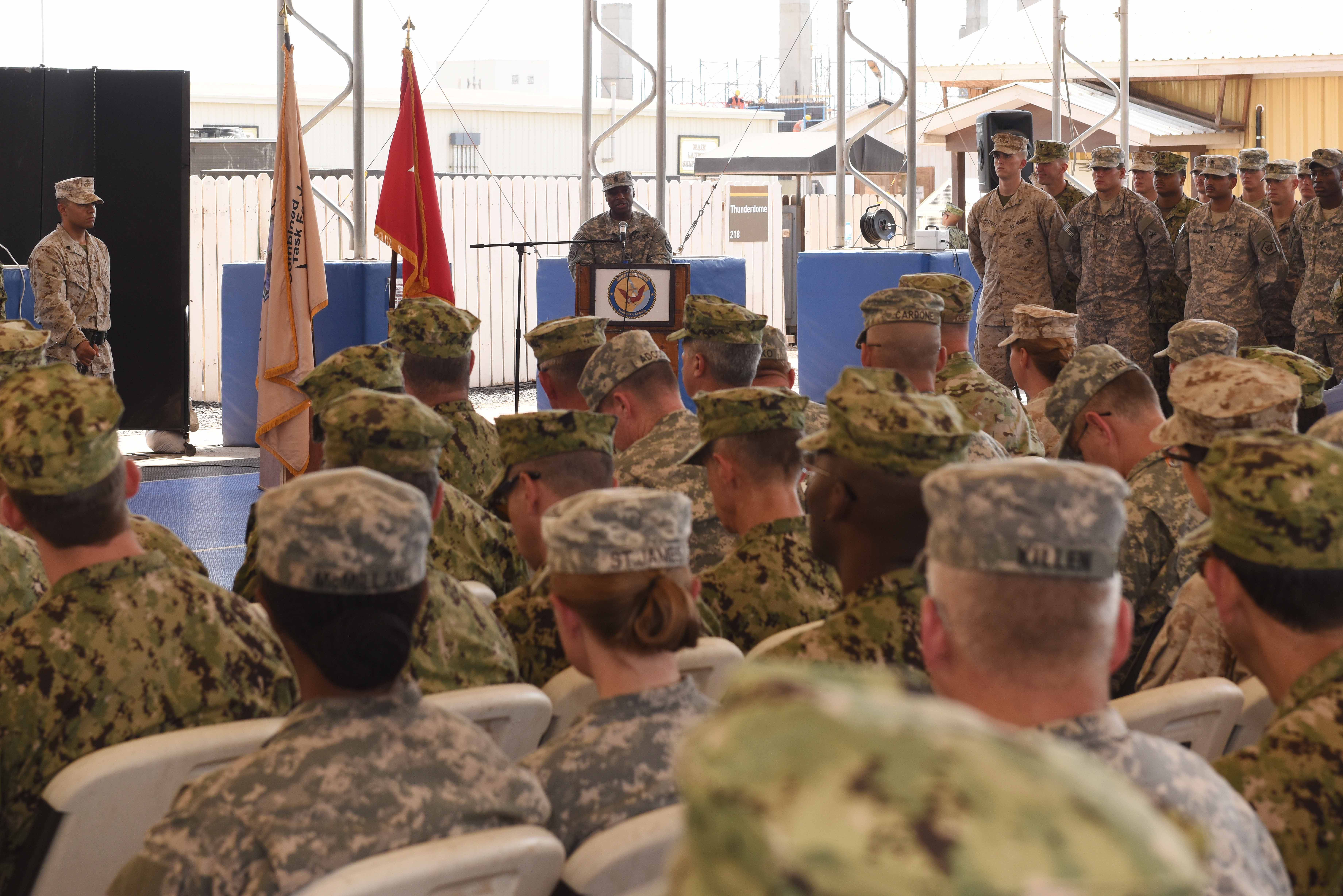 Combined Joint Task Force - Horn of Africa Image
U.S. Army Sgt. Maj. Claudell Taylor speaks with service members assigned to Camp Lemonnier, Djibouti during a relinquishment of authority ceremony when he took over on May 16, 2015. During his six weeks as interim command senior enlisted leader, ending June 19, 2015, he served as the principle advisor to the Combined Joint Task Force-Horn of Africa commander, and was responsible for issues affecting health, morale, welfare and professional development for more than 1,800 Army, Navy, Air Force and Marines joint service personnel in 14 African countries. (U.S. Air Force photo by Staff Sgt. Maria Bowman)
Combined Joint Task Force - Horn of Africa Image
U.S. Army Sgt. Maj. Claudell Taylor (center), former Combined Joint Task Force-Horn of Africa command senior enlisted leader, assumed the position for six weeks, when Marine Sgt. Maj. Bonnie Skinner returned to the United States. Taylor was the interim CSEL until U.S. Army Sgt. Maj. Butler Kendrick arrived in mid-June to take over responsibility. (U.S. Air Force photo by Staff Sgt. Maria Bowman)
In May, Combined Joint Task Force-Horn of Africa service members bid adieu to the command senior enlisted leader, who had served them for two years. Since the new CSEL wasn't going to arrive until the end of June, U.S. Army Sgt. Maj. Claudell Taylor was selected to fill that role temporarily.
"Sgt. Maj. Taylor, you had the unenviable task of bridging the gap as our interim CSEL," said U.S. Army Maj. Gen. Mark Stammer, CJTF-HOA commander. "Although you had been recently promoted, you immediately stepped in and led us from the front. You embodied professionalism, and set the example for others to follow. Thank you for your leadership."
During his six-week tenure, Taylor focused on morale, welfare, good order and discipline throughout CJTF-HOA. Visiting with the troops, and learning what they need and how they serve the mission, was a highlight of the job, he said.
"My favorite part was interacting with the command staff, the service members and coalition partners," Taylor said. "That was most rewarding, because I got a chance to interact with everyone, not just with my section. It's important because I'm in a joint environment, and I get a full spectrum of all the services—I had never experienced that before. Ultimately, it built up my toolbox, and I hoped to have given something to the troops as well."
Having strong leadership skills is essential to the role of being ultimately responsible for more than 1,800 service members, said Taylor.
"Leadership is a huge responsibility, and I take it seriously." said Taylor. "I have someone's father, brother, mother, and sister depending on me, and I look after their well-being. I have to make decisions that may affect their lives, as well as their loved ones. Leadership is paramount; I have to be mentally and physically ready to lead by example."
U.S. Army Master Sgt. Peter Brown, J39 information operations planner, has known Taylor for almost four years, and said he is one of the best examples of what an NCO should be.
"He takes care of soldiers," Brown said. "He has genuine concern for the troops. If he doesn't know the answer to a question, he hunts the answer down. He goes out of his way; if he has to work until 2 a.m. to help a soldier out, he will do that without a second thought."
In addition to working with U.S. military personnel, Taylor also formed and cultivated relationships with coalition partners.
"Collaborating and having professional relationships with our partner nations is important, because we're here to support East Africa: military and logistical support, medical capabilities, and keeping the peace. To keep the peace, you need to train like you are going to fight, because you don't know what is going to pop up. We also have to ensure that the East African countries that have issues are able, once we are gone, to solve their own problems."
Taylor, who will return to the Maryland National Guard in August, said relationships with partner nations is critical for getting the mission completed.
"The benefits of working with foreign nationals is getting that joint experience with other countries and familiarizing yourself with their customs and courtesies. Going forward, everything we do in theater is going to be joint. You may see someone from one country in another location; in order to help those relationships in the future, you must build positive relationships now."
Tags