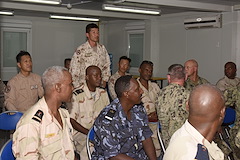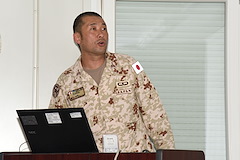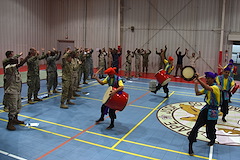 More than 30 members from Japan, Djibouti and the U.S. gathered on the Japan Self-Defense Force base for anti-piracy operations in Djibouti, to attend a Joint Forces Senior Enlisted Professional Development Course, Nov. 24, 2015.
The JFSEPDC is a multinational course aimed at mentoring and educating senior enlisted leaders serving with Combined Joint Task Force-Horn of Africa, Camp Lemonnier and allied forces.
The JSDF welcomed the senior leaders to their base and started the events with a presentation on Japan's geography, climate, history, recent political movements, and culture specific customs.
"I learned many things about Japan's history and culture," said Adjutant Chief Ibrahim Dafeh, Artillery Regiment, Djiboutian Armed Forces, who visited the Japanese base for the first time.
The course attendees then moved to a gymnasium for more interactive cultural lessons to include a traditional swordsmanship demonstration and an Okinawan drum dance known as Eisa.
"I enjoyed the dancing," said Dafeh. "It was good they shared their culture with us and it was much appreciated."
To end the night, the JSDF hosted a social with a variety of traditional Japanese foods and displays of individual talent such as calligraphy and origami.
"The goal was to have everyone understand Japan," said Japan Ground Self-Defense Force Command Sgt. Maj. Ryuichi Ueda. "It is important to understand each other. The more we share, the better we can work together."