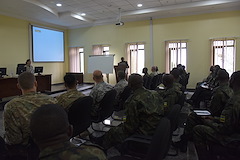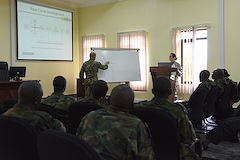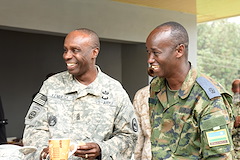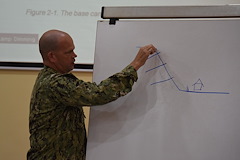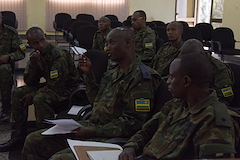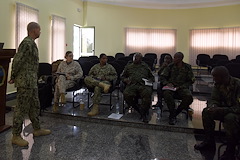 A team of engineers from Combined Joint Task Force-Horn of Africa met with Rwandan Defense Force engineering officers to share best practices on expeditionary camp planning at the RDF Engineering Brigade Headquarters near Kigali, Dec. 15-17, 2015.
"RDF members are taught basic engineering skills at civilian schools," said U.S. Marine Corps Maj. Bevin Keen, CJTF-HOA logistics deputy engineer. "They need guidance to apply those skill in a military setting."
The interactive discussion covered expeditionary camp planning from start to finish to include: site surveying and selection, security, strategic placement of required facilities, maintenance, and closure of the camp.
"If we lack in expeditionary capabilities, operations will be compromised," said Rwandan Defense Force Col. Faustin Kalisa, Engineering Brigade commander. "Military engineering relies on the equipment, skills and the will to perform. We want to improve our skills."
The three-day exchange not only helped the RDF hone their skills, but engineers from CJTF-HOA learned in the process, as well.
"They reuse the majority of [construction] materials," said Keen. "The way they reutilize those materials would be something useful for us to learn."
The sharing of information between partners bolsters each organization's mission, benefitting the entire region.
"The RDF is a troop contributor to both the East African Standby Force and U.N. peacekeeping missions in Africa," said Keen. "Having the ability to build a base camp enables them to complete peacekeeping and disaster relief missions."
In addition to increasing knowledge and ability of both forces, this engagement reinforced the partners' ties.
"We have forged professional relationships with the RDF engineers that will be instrumental for future engagements," said Keen. "They are an important partner nation to invest in. They have the will and desire; with the proper skill sets their increased capabilities will make them a more prominent force in East African stability."