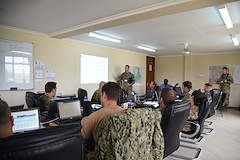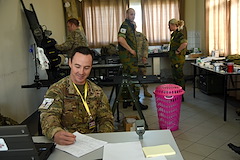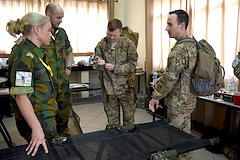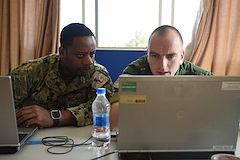 Combined Joint Task Force-Horn of Africa sent a joint team to provide real world support and subject matter experts to Eastern Accord 2016 at the Tanzanian Peacekeeping Training Centre, July 11-22, Dar es Salaam, Tanzania.
The U.S. Army Africa-led EA16 is an annual, combined, joint military exercise that brings together nine partner nations to practice and demonstrate proficiency in conducting peacekeeping operations.
The CJTF-HOA team brought medical and communications support as well as personnel to be observer controller/trainers, training audience members and master scenario events list script writers.
"The team is doing great! As with all exercises, things come at you quickly with a lot of things to learn in not much time and of course we are working away from our home base without the usual equipment," said U.S. Navy Lt. Cmdr. Charles Egli, CJTF-HOA training director and EA16 MSEL manager.
"It's been great to see as a team, we are really doing our own thing, but it's building to this overall great support apparatus that we provide to help execute the exercise. We set the stage for a successful exercise when it executes," said Egli.
The exercise was a learning process for the most senior in the group to the lower ranking personnel as well. U.S. Air Force 1st Lt. Adam Byne, CJTF-HOA plans officer and Eastern Accord OC/T, worked with a multinational team from Zambia, Djibouti, Ethiopia, and Tanzania. He assisted them in learning the Eastern African Standby Force planning process.
"Back in HOA I do theatre wide communication planning and this (exercise) gives me a strategic overview on how to plan multinational peacekeeping operations and how communications fit inside of the overarching operation," said Byne. "I think it's great, as a young officer it's very rare to get this opportunity to interact at such a high level. I'm very grateful for the opportunity."
The exercise was also a learning opportunity for all sides of the table. Each country has their own processes and best practices to share with their multinational teammates, said U.S. Army Maj. Andrew Obando, CJTF-HOA deputy surgeon and EA16 officer in charge of role 1 battalion aid station.
"For me, it's enriching and motivating to see all the expertise brought here," said Egli. "And humbling in some cases because some of the people who come here, especially from our East African partner nations, are very senior personnel. They have done these things in the real world."
The two-week exercise brought together approximately 200 multinational military and civilian personnel to build readiness, maintain U.S. and African coalition partnerships, facilitate interoperability between partner militaries and build capacity of participating forces.