CJTF-HOA-hosted Army Ball brings together multi-branch, partner nation military family
By
Combined Joint Task Force Djibouti-Horn of Africa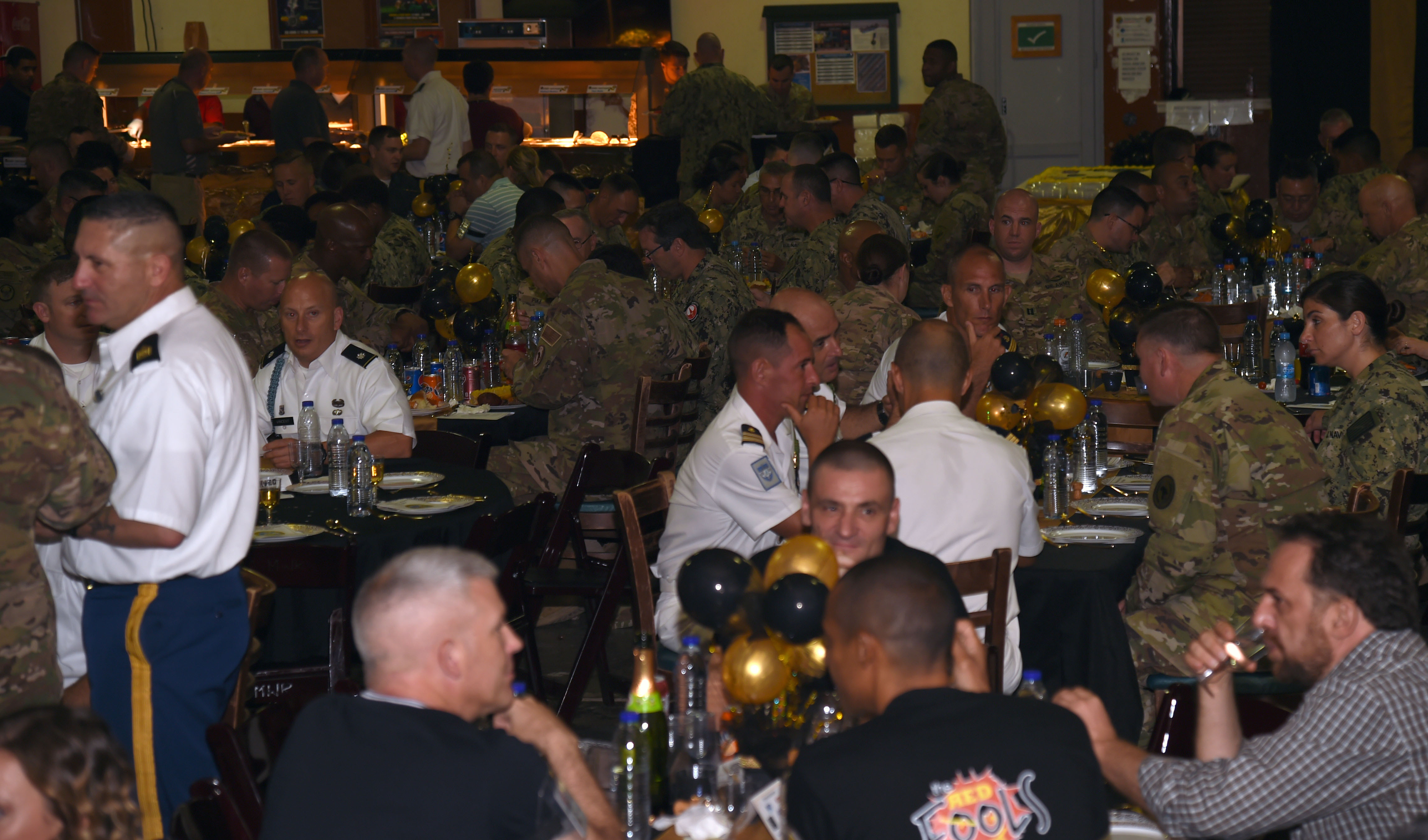 CJTF-HOA-hosted Army Ball brings together multi-branch, partner nation military family
Approximately 300 deployed U.S. Soldiers, Sailors, Airmen, Marines, DoD civilians, and partner nations attended the Combined Joint Task Force – Horn of Africa 242nd Army Ball at Camp Lemonnier, Djibouti, June 17, 2017. U.S. Army Maj. Gen. Roger Cloutier, Jr., U.S. Africa Command chief of staff, served as the event's guest speaker. (U.S. Air National Guard photo by Tech. Sgt. Andria Allmond)
CJTF-HOA-hosted Army Ball brings together multi-branch, partner nation military family
U.S. Army Maj. Gen. Roger Cloutier, Jr., U.S. Africa Command chief of staff, speaks to the crowd as the guest speaker of the Combined Joint Task Force – Horn of Africa 242nd Army Birthday Ball, at Camp Lemonnier, Djibouti, June 17, 2017. Approximately 300 deployed U.S. Soldiers, Sailors, Airmen, Marines, DoD civilians, and partner nations attended the event. (U.S. Air National Guard photo by Tech. Sgt. Andria Allmond)
CAMP LEMMONIER, Djibouti – Approximately 300 deployed U.S. Soldiers, Sailors, Airmen, Marines, DoD civilians, as well as partner nations attended the Combined Joint Task Force – Horn of Africa (CJTF-HOA) 242nd Army Ball here June 17.
The celebratory event provided attendees an opportunity to experience Army ethos and an outlet for camaraderie and esprit de corps.
"Although we're celebrating the Army birthday tonight, this is a joint force and nobody fights alone anymore," said guest speaker U.S. Army Maj. Gen. Roger Cloutier, Jr., U.S. Africa Command chief of staff. "We can't perform our mission without a combination of our Army, Navy, Air Force, Marines and our interagency partners. So, it's important to share our cultures and I'm glad that the Army ball here has every branch of service represented tonight."
He discussed impactful and stirring moments that are both deep-rooted and historically significant. Cloutier voiced to the importance of each member currently serving in the Army.
"…young men and women from every generation have stepped forward to guard our freedom and the American way of life" said Cloutier. "When their country called and said, 'Who will stand in the gap for freedom?' they, just like everyone siting out here, raised their hand and said, 'Here I am, send me. I will stand in that gap.'"
The sentiment of a strong military family – one not defined by branch – and its value in the life and work of deployed service members was visible in the array of attendees. This unification is an integral part of how CJTF-HOA personnel work to promote security and stability in the East Africa area of responsibility. This involves a mutual respect and understanding between those executing the mission.
"With having the other branches attend, it allows the Army to share its culture with the Navy, Air Force and Marines," said U.S. Army Staff Sgt. Jeffery Gill, 1st Battalion, 153rd Infantry Regiment, 39th Infantry Brigade Combat Team, deployed with CJTF-HOA here. "These are the events that bring people together as a family. And while we're all deployed here, this is one of those parts of the Army culture that can help create a more tightly-knit group. We're all in the military, regardless of what service you're in."
The night's agenda included established traditions, such as the invocation, cutting of the cake and singing the Army song. The evening ensued with a medal presentation to Soldiers who demonstrated the highest standards of integrity, moral character, professional competence, selflessness and significant contribution. The festivity's finale included the retiring of the colors and led into live music and dancing.
Regarding the evening and its greater meaning, Gill said, "We're all here for a reason. No one service is more important than another and we need to rely on each other – for the mission, of course – but, also because that's what family does."
Tags