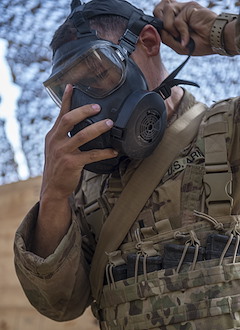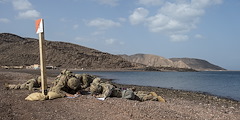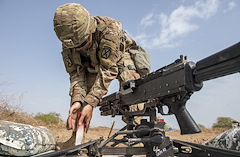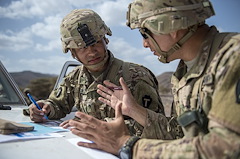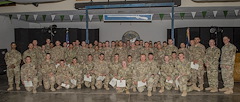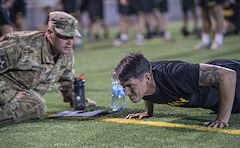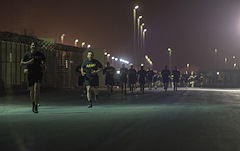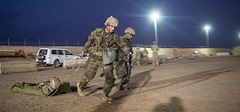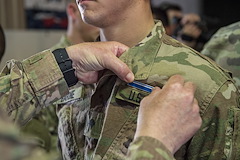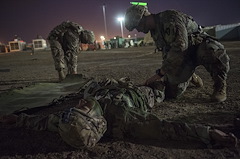 After five days of testing, 50 U.S. Army Soldiers assigned to Combined Joint Task Force - Horn of Africa (CJTF-HOA) completed the process to earn the Expert Infantryman Badge (EIB) at Camp Lemonnier, Djibouti, Feb. 2, 2018.
Established in 1944, the EIB is an award designed to build and maintain esprit de corps within U.S. infantry units as well as recognize infantrymen and Special Forces Soldiers who have demonstrated the discipline and mastery of skills critical to being an infantry Soldier.
Beginning with 184 candidates, the 50 successful EIB earners made this iteration's pass rate roughly two percent better than the Army's overall 2017 EIB pass rate of 25 percent as reported on the website of the U.S. Army Maneuver Center of Excellence (MCOE) in Fort Benning, Georgia.
"It's the badge that shows you are an expert in your field," said U.S. Army Command Sgt. Maj. Clinton Petty, Task Force Bayonet senior enlisted leader and EIB board president. "That means a lot for us in the infantry because that's where you start with the individual task … to build those teams, squads, and platoons."
The badge can be awarded to Soldiers who hold an infantry or a Special Forces military occupational specialty (MOS), with the exception of Special Forces medical sergeant, and who meet all the physical and administrative requirements and can complete the qualification process.
However for these Soldiers, obtaining the EIB had a few more obstacles that needed to be navigated even before the process began.
"Being forward deployed, there are a lot of challenges that we face, most notably a supply shortage," said U.S. Army 1st Sgt. Jonathan Hendrix, 3rd Battalion, 144th Infantry Regiment assigned to Task Force Bayonet, CJTF-HOA and EIB noncommissioned officer in charge of lanes. "We were able to work with a lot of different partner units."
Hendrix worked with the Expeditionary Military Facility to get supplies needed to train and conduct the EIB process. He also worked with the leaders of Battle Company, 1st Battalion, 32nd Infantry Regiment, 1st Brigade Combat Team, 10th Mountain Division to see how many EIB holders they had assigned to CJTF-HOA to act as cadre during the process. According to Hendrix, the most notable partnership he had was working with U.S. Navy Seabees to build the training grounds used to hold the majority of the EIB process.
"There were several different Seabee units we worked with directly to help us with a lot of the infrastructure - the tables, the platforms, camouflage nets, moving containers around," Hendrix said. "Without them, we really couldn't have pulled this thing off. It was absolutely incredible how willing they were each and every time we asked for more. They were always on top of it, ready to help us out at any opportunity."
Once the training area was completed, a team from the MCOE - who the Battle Company leaders had been in contact with even before Task Force Bayonet arrived at Camp Lemonnier - came out to validate the EIB course and cadres to not only ensure the integrity of the badge is upheld but also grant the Soldiers opportunity to pursue it in a deployed location.
"It was important for us to do that here," Petty said. "As Guardsmen, we don't get that opportunity very often at home, so getting the opportunity to do it here was very important to our Soldiers and the force itself, because it makes an infantryman better."
To earn the EIB, eligible Soldiers must complete four phases. The first phase requires EIB candidates to pass the Army Physical Fitness Test with a score of 80 percent in each event. Candidates are not allowed to retest this portion.
The second phase consists of land navigation exercises, in which candidates must locate three out of four points in both day and night scenarios. If candidates receive a "GO" for this phase, they are allowed to move onto phase three.
The third phase consists of individual testing stations. It requires candidates to pass 30 weapons, medical, and patrol tasks to specific standards. The tasks are chosen from a possible 45 tasks, with several tasks being required to be included in each EIB qualification. Candidates who receive more than two "NO-GOs," or a double NO-GO on the same station, during this phase are eliminated from the EIB process.
Finally, the fourth phase requires candidates to complete a 12-mile forced march. Candidates must complete the march while carrying 35 pounds in three hours or less, and then immediately complete the tasks associated with "Objective Bull" in 20 minutes or less. For Objective Bull, candidates must evaluate a casualty; apply a tourniquet to control bleeding, and transport the casualty. If a candidate fails to meet the time requirements or perform the procedures in the proper sequence, they are not allowed to retest and are eliminated from the EIB process.
Out of the 50 recipients of the EIB, four members were "true blue." This distinction means they passed the entire process without having to retest on any part.
"Pinning the badges on these Soldiers is one of the best times of my career, and I've been in a long time," Petty said. "Getting to see those young privates, specialists, and even the sergeants who have been working so hard to get here - this is some of them second or third time trying to get their EIB - that made me feel especially proud for them."