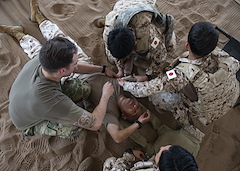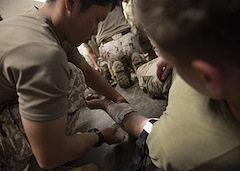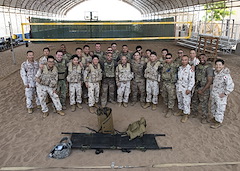 COMBINED JOINT TASK FORCE-HORN OF AFRICA, Djibouti - U.S. Army Soldiers assigned to Combined Joint Task Force-Horn of Africa and Japanese Ground Self-Defense Force soldiers participated in a tactical combat casualty care course at Camp Lemonnier, Djibouti, May 27 and May 31, 2019.

The course was part of a two-day subject matter expert medical exchange that focused on first-aid methodologies between the two partner nations in Djibouti.

"In the event of a mass causality, figuring out how we can develop interoperability and work together is important for using this as a building block to save Soldiers' lives," said U.S. Army Maj. Novneet Sahu, a surgeon with the 2nd Battalion, 113th Infantry Regiment, Task Force Warrior, New Jersey National Guard, assigned to CJTF-HOA.

"It started as an infantry-to-infantry exchange," said Sahu. "We sat down and discussed what topics would be good for an information exchange. One of the topics that came up was medical. I think we have figured out how to navigate setting something like this up, so now we would want to do this pretty regularly."

During the course, Japanese and U.S. service members learned various types of medical techniques, such as the application of a tourniquet, insertion of a nasopharyngeal airway tube, proper application of a battlefield bandage and transportation of injured troops using a sked litter.

Though very successful according to Sahu, one of the hurdles overcome in the exchange was language translation and communication between the two militaries.

"My first language was Japanese and I grew up learning English," said U.S. Army Sgt. Seishi To, translator and fly away security team medic NCO in charge of the 2nd Battalion, 113th Infantry Regiment, Task Force Warrior, New Jersey National Guard, assigned to CJTF-HOA."It is important to build relationships with partner nations, to see different ways and techniques of doing things. It is vital for building partnerships, to see new ways of integration."

According to To, the information flowed both ways and both sides benefited from the interaction.

"Both sides were very receptive," said To. "I learned that no matter where we go, methodologies may be a little different, but the baseline of trying to save a life is the same."

"Not only did we have bilateral cooperation and confidence, but also multilateral cooperation and confidence," said Maj. Yusuke Omachi, infantry commander for the Japanese Ground Self-Defense Force. "The more multilateral cooperation and confidence expands, the more the JSDF can contribute to the international community. We hope that our activities further deepen Japan-U.S. relationship and contribute to strengthen bilateral cooperation. The spirit of building deep mutual understanding is nurtured among the service members of both countries."