Chief of Staff
Captain Steven J. Lathrop
United States European Command
CJTF-HOA Chief of Staff Biography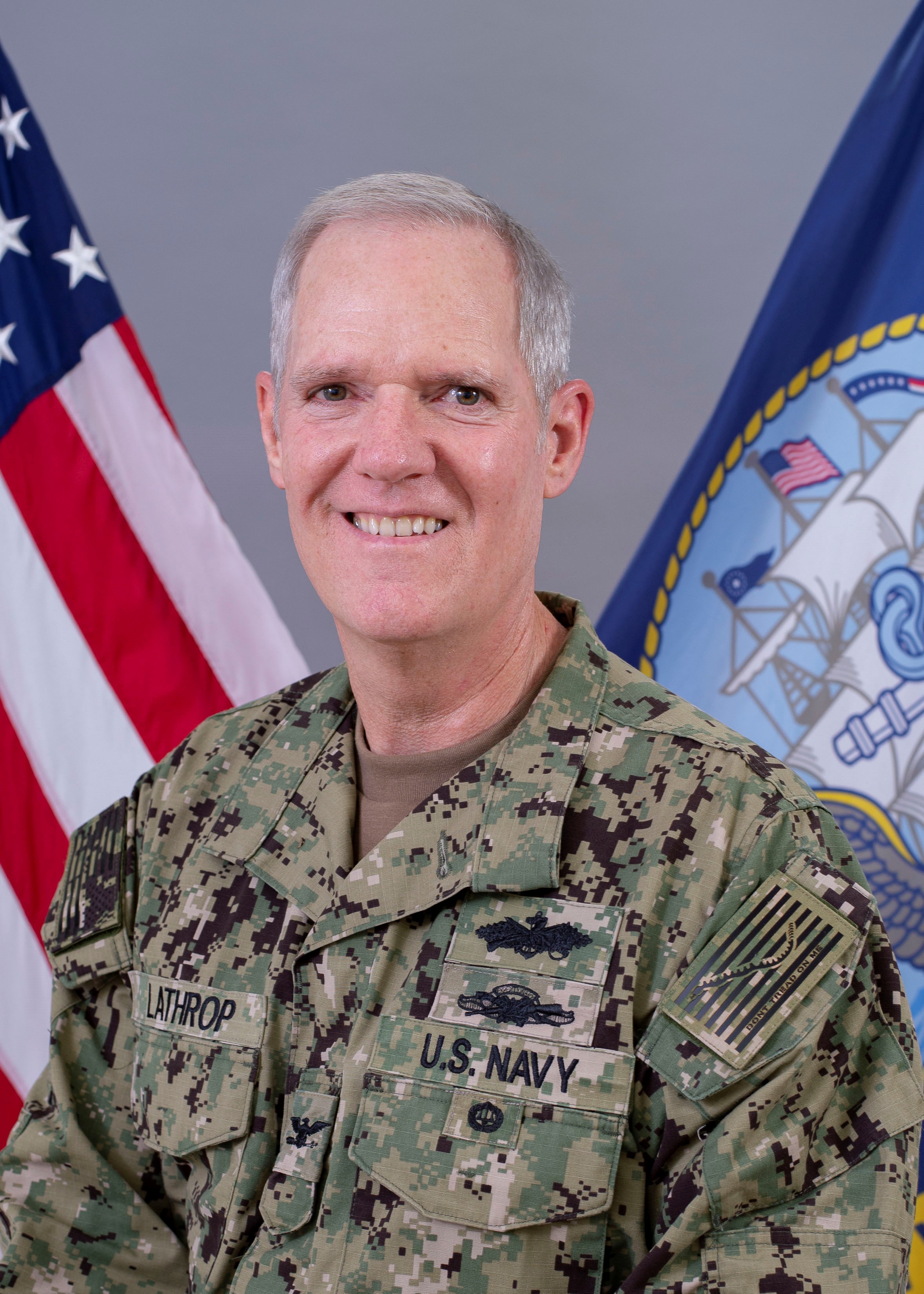 Captain Steven J. Lathrop, a native of Brea California, received his Bachelor of Science in Economics at California State Polytechnic University, Pomona. He later attended the Peter F. Drucker School of Management at Claremont Graduate University, where he completed his Master in Business Administration with concentrations in Finance, Accounting, and Strategic Management.
Captain Lathrop received his direct commission in May of 1992. Upon completion of the Supply Corps Basic Qualification Course – NR he spent the first five years of his career with the United States Naval Construction Battalions (SEABEES), where he served as Assistant Supply Officer and Supply Officer for Naval Construction Force Support, Unit TWO, and Construction Battalion Maintenance Unit THREE-ZERO-THREE. In October 1999, CAPT Lathrop was assigned to Navy Supply Support Battalion ONE (NSSB 1), Fuels Company Hotel, serving as assistant Company Commander for two years and later taking over as Company Commander. In October 2003, he served as the Headquarters Company Commander for Navy Cargo Handling Battalion FOURTEEN (NCHB-14). CAPT Lathrop activated in January 2004 in support of Operation Iraqi Freedom and deployed to Kuwait, serving for seven months as the Officer in Charge of the Port Element. Upon his return in October 2004, he became the Operations Officer for NCHB-14, where he served for two years. In December 2006, CAPT Lathrop became the Executive Officer for the Commander Naval Logistics Forces Korea, Det San Diego. He served as the Commandant of the Security Forces Assistance during his second deployment in March 2009, where he was responsible for the training and assessment of 2,000 military advisors. At the request of the 1st Corps Commander he became a principal Logistics Plans Officer for the drawdown and redeployment of 45,000 Joint Forces Personnel.
In December 2011, CAPT Lathrop took command of Navy Cargo Handling Battalion FIVE headquartered in Tacoma, WA, where he led his battalion on a nine-month deployment to Afghanistan. He returned in June 2014 and assumed command of U.S. Pacific Fleet (PACFLT) N4 Logistics Readiness Center Det 120. CAPT Lathrop took over as Commander of the FIFTH Navy Expeditionary Logistics Regiment in November 2015. In December 2017, he reported to U.S. Fleet Forces Logistics Support Unit Reserve Detachment, where he served as Executive Officer.
CAPT Lathrop is currently assigned to CJTF-HOA where he served as the Director of Logistics for two months before being selected by the Commanding General to serve as the Chief of Staff.
His personal awards include the Meritorious Service Medal (Third Award), the Navy Commendation Medal (Third Award), the Army Commendation Medal, the Navy Achievement Medal (Fourth Award) and numerous campaign and unit awards. He holds the SEABEE Combat Warfare Specialist and Navy Supply Corps Expeditionary Warfare designation.
Tags