Command Senior Enlisted Leader
Command Sergeant Major Shawn F. Carns
United States European Command
CJTF-HOA Command Senior Enlisted Leader Biography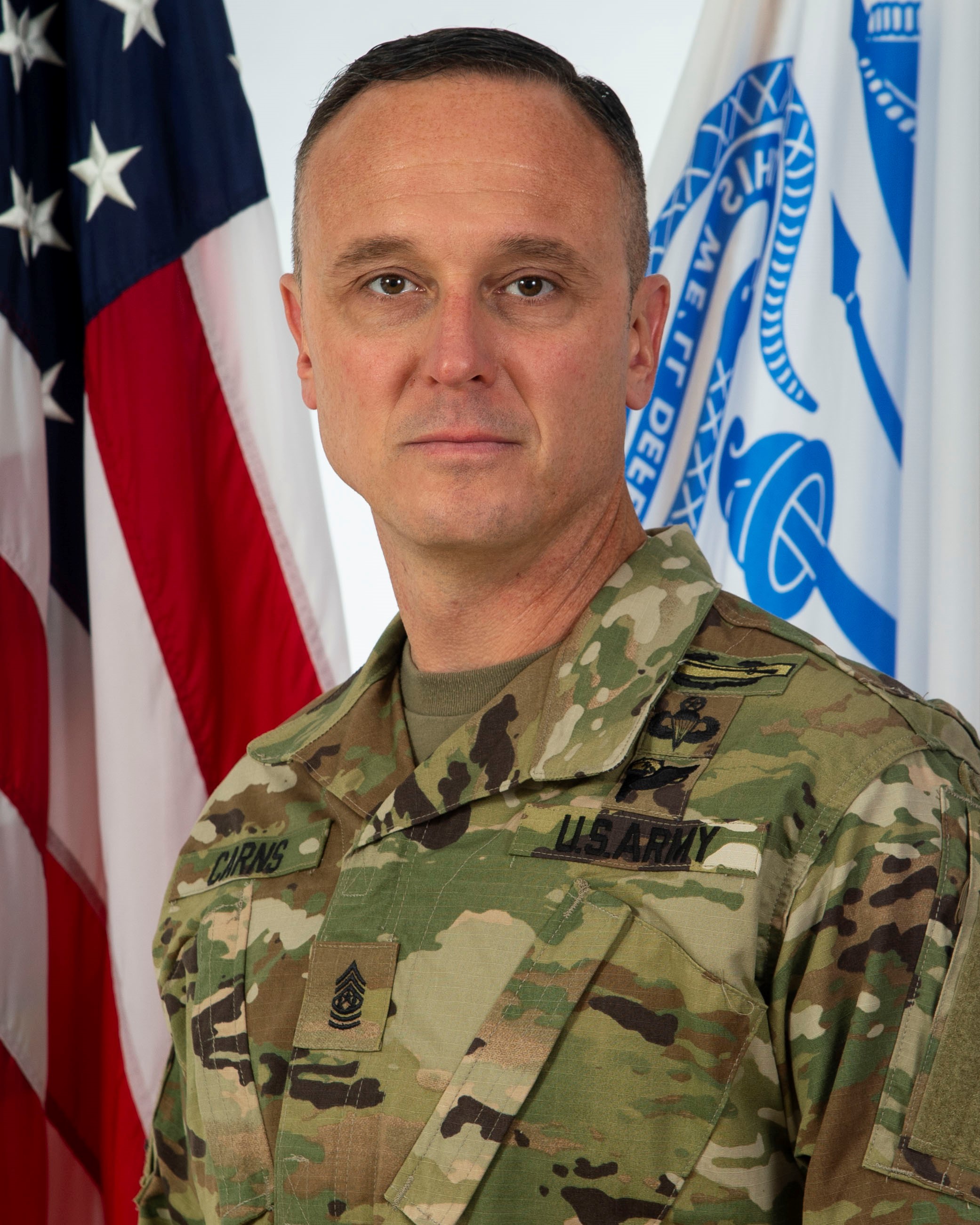 Command Sergeant Major Shawn F. Carns serves as Command Senior Enlisted Leader, Combined Joint Task Force–Horn of Africa.
CSM Carns enlisted in the Army in Jul 1992 as an Infantryman from Indiana, PA. After completion of Basic and Advanced Individual Training at Ft. Benning, GA, he was assigned to 2-5 CAV Ft. Hood, TX
CSM Carns has served in every key leadership position in the Infantry from Team Leader to CSM. His first assignment was 2-5 CAV Ft. Hood, TX; he served as a Team Leader and Squad Leader in 1-325 AIR Ft. Bragg, NC; Long Range Surveillance Team Leader in 2ID LRSD, Camp Hovey, Korea; Ranger Instructor at 4th Ranger Training Battalion, Ft. Benning, GA; Platoon Sergeant and 1SG at 1-8 IN Ft. Carson, CO. CSM Carns participated in three deployments is support of Operation Iraqi Freedom.
Upon graduation from the Sergeants Major Course, CSM Carns served as OPS SGM for 1-503rd 173rd, Vicenza, Italy; in which he deployed to Afghanistan from Jun 2012 to Feb 2013 in support of Operations Enduring Freedom. In Jan 2014 he was selected as the Battalion CSM for 3-15 IN Ft. Stewart, GA. In Jun 2016 he was selected as the Brigade CSM for JTF-B in Honduras, then assigned as the Command Sergeant Major Development Program (CSMDP) Lead at Ft. Leavenworth, KS.
CSM Carns' military education includes all Noncommissioned Officer Education system courses. He is a graduate of the U.S. Army Sergeant Major Academy (Non Resident 39). His additional military training include Ranger School, Airborne School, Jump-master, Pathfinder, Air Movement Operations, Instructor/Facilitator course and Battle Staff. He will complete Bachelors of Business Leadership (Management) Jun 2019 from Trident University.
CSM Carns' awards and decorations include Bronze Star Medal (3 OLC), Defense Meritorious Service Medal, Meritorious Service Medal (3 OLC), Army Commendation Medal (3 OLC), Army Achievement Medal (1 OLC), Joint Meritorious Unit Medal, Meritorious Unit Citation, Army Good Conduct Medal - 8th Award, National Defense Service Medal - 2nd Award, Afghanistan Campaign Medal, Iraq Campaign Medal w/2 stars, Global War on Terrorism Service Medal, NCO Professional Development Ribbon – 5th Award, Army Service Ribbon, Overseas Service Ribbon – 6th Award, NATO Medal, Ranger Tab, Combat Infantry Badge, Expert Infantry Badge, Pathfinder Badge, Master Parachutists Badge and South Korean Jump Wings.
Tags